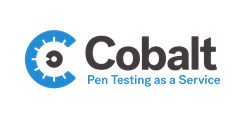 I'm excited about Co​balt's approach and how they combine their platform, methodology and global talent pool to disrupt the traditional pen testing and assessment model," said Rob Mann, Security Assurance, Google
SAN FRANCISCO (PRWEB) May 02, 2018
Cobalt.io, a Pen Testing as a Service platform (​PTaaS)​ transforming the traditional pen testing model for SaaS businesses, announced today that it has received $5 million in funding to ​continue its global expansion and for further investment in its ​industry-leading​ PTaaS platform.
A major new investor in the round is ​byFounders​, with Managing Partner Eric Lagier joining the board of directors. Additional investment comes from ​elab Ventures​,​ ​DG Incubation, Plug and Play Ventures​ and ​Tim Draper with Draper Associates.
"Cobalt's current growth and execution track record is impressive, so we were eager to help fuel their continued global growth. They have one clear mission: Delivering the best pen testing ROI for their customers. ​byFounders is backed by some of the most accomplished founders in the Nordics and Baltics and Cobalt is a great example of the type of excellent Nordic founders with global ambitions that we like to invest in,​" said Eric Lagier, Managing Partner at byFounders.
Lagier comes with more than 20 years of GM, BD and product experience from leading tech companies Oracle, Skype and Tradeshift. Michele Law also joins the Cobalt board. Law recently served as Chief Revenue Officer of Castlight Health and prior to that was the Chief Operating Officer of OpenD​NS. These industry-leading executives will join application security expert Caleb Sima, Bob Stefanski, managing director of eLab Ventures and Cobalt CEO/founder Jacob Hansen on the Cobalt board.
Additionally, Rob Mann ​joins Cobalt as an investor and advisor. Mann leads security assurance at Google and has over 20 years of security testing experience. "I've spent many years working on scaling assessments and pen testing while maintaining quality of the testing. I'm excited about Co​balt's approach and how they combine their platform, methodology and global talent pool to disrupt the traditional pen testing and assessment model," Mann said.
Jacob Hansen, CEO and Co-Founder of Cobalt, also adds, "I'm humbled by the traction we have seen over the last year growing 3x in 2017 with our platform being adopted by almost 100 new clients in 2017 alone. The strong demand has pulled us into the European market and in early 2018 we opened a Sales, Customer Success and Engineering office in Berlin. We are excited about continuing the growth in 2018."
About Cobalt.io
Cobalt.io's Pen Testing as a Service (PTaaS) Platform transforms yesterday's broken pen test model into a data-driven vulnerability management engine. Fueled by a global talent pool of certified freelancers, Cobalt.io's SaaS pen test platform delivers actionable results that empower agile teams to pinpoint, track, and remediate software vulnerabilities. Hundreds of organizations now benefit from high-quality pen test findings, faster remediation times, and higher ROI for their pen test budget. Visit cobalt.io to learn how Cobalt.io is securing apps for companies such as Verifone, GoDaddy, MuleSoft and Credit Karma.