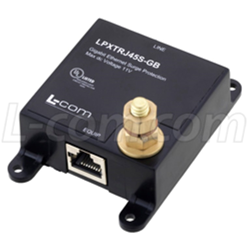 "Our new LPXT series surge protectors offer high levels of surge protection by utilizing proprietary surge technology that responds quickly to damaging surges, said Manuel Martinez, Product Manager
NORTH ANDOVER, Mass. (PRWEB) May 03, 2018
L-com Global Connectivity, a preferred manufacturer of wired and wireless connectivity products, announced today that it has released a new series of data-line lightning and surge protectors designed to protect valuable communications equipment from power surges and indirect lightning strikes.
The LPXT product line features lightning and surge protectors that offer 10/100 Mbps, Gigabit Ethernet, and PoE+, PoE++ interface options to address Ethernet device surge protection applications protecting attached equipment from transient over-voltages on high-speed data lines.
Additionally this new series features a 1U, 19" rack-mount chassis designed to hold up to 16 LPXT protection modules as well as a series of standalone surge protectors developed to protect RS-422, 4-20 mA double wire pair (4-Wire) configurations and other balanced pair applications from transient over voltages. Other models in this new series support DIN rail mounting for industrial surge protection applications and some models are rated for outdoor use.
These new data-line lightning and surge protectors can be used in wired and wireless Ethernet networks, serial data communications networks or in any application where Ethernet IP, RS-422 or 4-20ma devices require protection from power surges.
"Our new LPXT series surge protectors offer high levels of surge protection by utilizing proprietary surge technology that responds quickly to damaging surges. Our goal with the LPXT series was to offer as many form factors and features as possible to address our customer's surge protection needs. By offering rack-based, standalone, DIN-rail style and indoor/outdoor versions, we are able to address just about every data-line surge application," said Manuel Martinez, Product Manager.
L-com's new data-line lightning and surge protectors are in stock and available for immediate shipment.
For more information about this release, please contact:
Peter McNeil
L-com Global Connectivity
17792 Fitch
Irvine, CA
978-682-6936 x1174
About L-com Global Connectivity:
L-com Global Connectivity, a leading manufacturer of wired and wireless connectivity products, offers a wide range of solutions and unrivaled customer service for the electronics and data communications industries. The company's product portfolio includes cable assemblies, connectors, adapters, antennas, enclosures, surge protectors and more. L-com is headquartered in North Andover, Mass., is ISO 9001: 2008 certified and many of its products are UL® recognized. L-com is an Infinite Electronics company.