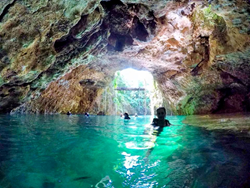 "Through its extraordinary offerings, high standards and unmatched satisfaction, the Xenotes Tour of the Experiencias Xcaret is a guaranteed must visit for those who visit Cancún and the Riviera Maya."
CANCUN, Mexico (PRWEB) May 02, 2018
With over 2,000 reviews, Experiencias Xcaret's Xenotes Oasis Maya tour is rated five out of five stars and is in the Top 15 boat and water sport activities in Cancún. The tour recently received the TripAdvisor Certificate of Excellence, which recognizes the most successful attractions for international tourists.
"Through its extraordinary offerings, high standards and unmatched satisfaction, the Xenotes Tour of the Experiencias Xcaret is a guaranteed must visit for those who visit Cancún and the Riviera Maya," Iliana Rodríguez Cavazos, Director of Communication and Corporate Social Responsibility at Experiencias Xcaret said.
"Alan Por el Mundo," an experienced and renowned travel vlogger in Mexico and Latin America, included the Xenotes tour as "The Best Excursion" in his 2017 list of favorites.
The Xenotes tour allows tourists to explore the different types of cenotes, or swimmable sinkholes, that exist in the Quintana Roo region. Located between Cancun and Playa del Carmen, Xenotes provides adventure seekers opportunities to go zip lining, cliff jumping and rappelling. Nature lovers can discover the beauty of the jungle while swimming in the cenotes, enjoying a relaxing kayak ride and exploring the diversity of aquatic life.
ABOUT EXPERIENCIAS XCARET
Experiencias Xcaret is a leading organization in sustainable tourism. This Mexican-owned company specializes in providing adventure and cultural experiences to visitors in Cancún and the Riviera Maya. These unique experiences include the Xcaret, Xel-Há, Xplor, Xplor Fuego, Xoximilco Cancún and Xenses parks in addition to the Xenotes Oasis Maya and Xichén tours. In December 2017, Experiencias Xcaret opened Hotel Xcaret México, the first All-Fun Inclusive™ hotel. For more information, visit http://www.xenotes.com.mx.