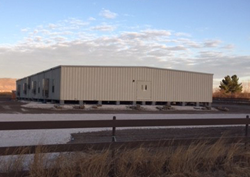 The acquisition of the Ramtech building has created tremendous confidence and enthusiasm for our community, and furthers our goal of raising the standard of education in our area
Mansfield, TX (PRWEB) May 01, 2018
Design-build commercial modular construction firm Ramtech Building Systems of Mansfield, TX has announced that the company has completed the installation phase on a new eight classroom modular school building for Alpine Christian School in Alpine, Texas. The 8,064 square foot facility will be used for the private school's Kindergarten thru 12th grade students beginning at the start of the 2018-19 academic school year. Using one of Ramtech's standard classroom inventory designs, the value-engineered facility utilizes an R-panel metal siding exterior with wall-mounted HVAC units zoned for maximum heating and cooling efficiency. Ramtech's scope of work on-site included the setting of the building on a pad prepared by the school's contractor. Once power is provided to the site, Ramtech will finish the remaining interior work including the vinyl composition tile flooring.
The new modular building will sit on a part of the 21 acres acquired in 2016 through the generous donation of two of the school's local benefactors. According to ACS board member Bobby Duncan, "the acquisition of the Ramtech building has created tremendous confidence and enthusiasm for our community, and furthers our goal of raising the standard of education in our area while guiding students into a relationship with Jesus Christ." Future plans for the additional acreage include developing the site to include an astronomy program, along with a rugby field, running track, and an equestrian riding center.
The Alpine Christian School is a non-denominational Christian school located in Brewster County, an area in southwest Texas approximately 70 miles from Big Bend National Park. The school was founded in 2004 with six students, and teaches a core of knowledge using a classical model based on the Trivium of grammar, logic, and rhetoric. In 2013 it was accredited by the Texas Alliance of Accredited Private Schools, making it the only fully accredited private school in the Big Bend tri-county area. ACS currently leases facilities provided by the First Baptist Church of Alpine for its 55 students. Alpine Christian's Homeward Bound Building Campaign provided the funding for the new facility which will create enough space for a planned enrollment of over 200 students in the next few years. Donations to further the school's development and growth through its 'Living Waters' campaign can be made directly at the Alpine Christian School's website.
About Ramtech Building Systems
Since 1982 Mansfield, Texas-based Ramtech Building Systems has been providing innovative permanent modular construction and relocatable modular buildings to educational institutions, government agencies, healthcare providers, and Fortune 500 companies throughout the Southern United States. As a design-build construction company, Ramtech offers full in-house design, a manufacturer direct product, and complete site construction services all within a single-source provider solution. By emphasizing a value engineering approach, Ramtech has successfully completed over 4,000 projects of diverse sizes across multiple industries. The company's school project portfolio includes both relocatable buildings and facilities built using traditional pier and beam permanent modular construction and their flagship slab-on-grade permanent modular construction approach. For more information, visit the company's website at RamtechModular.com.