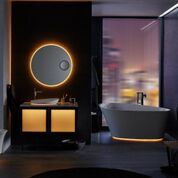 KOHLER, Wis. (PRWEB) May 01, 2018
Kohler, a global leader in the design and innovation of kitchen and bath products, and luxury design brands, and its subsidiaries, Kallista, a leading designer and provider of luxury kitchen and bath plumbing products, and Robern, an industry leader in luxury styling spaces, return to HD Expo 2018 to showcase the latest offerings. Gathering inspiration from technology to renowned art movements, each brand provides designs to enliven and enhance any hospitality environment.
KOHLER
Kohler has taken a familiar product and, inspired by the worlds of fashion and modern design, created an uncommon showpiece that is unlike anything else on the market. The new Ombré Finishes make use of Kohler's proprietary PVD – physical vapor deposition – process, which bonds the finish and faucet together at the molecular level, to create an incredibly strong surface that is both scratch- and tarnish-resistant. Curated sets of color pairings include Vibrant Rose Gold to Vibrant Polished Nickel and Vibrant Titanium to Vibrant Rose Gold.
The Veil Collection gives modern bathroom design a new twist by featuring gentle lines and sculpted asymmetrical shapes. The collection's new Lighting Suite offers adjustable lighting on the mirror, sink, vanity, bath and wall-hung intelligent toilet. The lighting features provide users with the ability to optimize task and ambient lighting through scaled colors and light temperatures. Additionally, the vanity features a sensor-operated, adjustable glass that allows homeowners to switch from frosted to clear.
Putting the freedom of choice into the hands of consumers and specifiers, Kohler's new Components line of interchangeable faucet elements offers a wide range of modern, minimalist options for composing a finished product. The line is pared down and refined, but luxurious and chic enough to make a statement in any setting. The matte black finish is a nod to contemporary and industrial styles, adding instant refinement.
The Verdera® Voice Lighted Mirror with Amazon Alexa is the first-to-market bathroom lighted mirror available to consumers that has Amazon Alexa embedded. With the ability to pair other Kohler products that utilize Kohler Konnect directly to the Verdera Voice Lighted Mirror, users can reduce countertop clutter and streamline voice capabilities within the bathroom. Verdera design features also include a dual-microphone solution to enhance the accuracy of voice-control, speakers housed in hermetically sealed casings to maximize stereo sound quality, a motion-activated wayfinding nightlight for safety and convenience, and highly efficient LED lights for makeup application, grooming and skin care.
ROBERN
The Profiles Collection from Robern is a comprehensive assortment of medicine cabinets, vanities, mirrors, and task lighting that affords trade professionals and consumers with a complete toolbox to customize any living space. Inspired elements of Art Deco design are woven into pared down Cubist styling to create the Profiles Collection modular offerings and incorporate high-function features and technological advances developed by Robern for its clientele for 50 years.
Clean, modern styling and the latest in technology come together to create the collection's integrated approach to interior design offering ala carte cabinetry and vanity sizes, lighting options, and wide range of glass and metal finishes that provide stylish solutions for every lifestyle. The Profiles Collection high-functioning technology and depth and breadth of product provide almost limitless options to transform any space.
KALLISTA
From KALLISTA comes The Grid Collection, a series that celebrates the brand's ideal to Live Artfully in a new and unexpected way. The collection is comprised of the Grid Sink Faucet and Cube Handles, a wall-hung console, lighting and accessories and its Matte Black finish, which is exclusive to the collection.
Grid pays homage to the architects, designers, and artists that stepped away from 19th century design norms setting off an artistic revolution that literally took the world by storm. It was this shift from ornamentation and pomp to spare, restrained form that began a new genre in design.
The KALLISTA Grid sink faucet employs 3D printing, resulting in Grid's unique design elements, which defy the standard requirements of external housing to incorporate internal components. To create the Grid faucet, KALLISTA partnered with Indianapolis-based 3rd Dimension, a 3D printing specialist and high quality production metal manufacturer. The faucet is paired with the graphic Cube handles, understated perfect open squares created by employing the investment cast process scaled appropriately to comfortably conform to the hand.
This boutique collection resonates with tailored elegance and harnesses the visual impact negative space can command by stripping away the confines of traditional design elements to expose the intrinsic beauty of simple, geometric form.
For additional information about each brand and product offerings, please visit kohler.com, kallista.com and robern.com.
About KOHLER®
Founded in 1873 and headquartered in Kohler, Wis., Kohler Co. is one of America's oldest and largest privately held companies. Kohler is a global leader in the manufacturer of kitchen and bath products, engines and power generation systems, cabinetry, tile and home interiors, and international host to award-winning hospitality and world-class golf destinations.
About KALLISTA
KALLISTA is known for its designs of luxury plumbing products, offering faucets and fixtures thoughtfully created for tasteful, whole-bath solutions. KALLISTA is available in fine showrooms in major cities throughout the world. Kallista, along with sister brands Ann Sacks Tile and Stone, Inc., and Robern mirrored cabinetry and vanities, is a division of the Kohler Co. Decorative Products Group, a wholly owned subsidiary of Kohler Co.
About ROBERN
Robern believes that people's everyday routines should never feel ordinary. That's why its mission is to craft mirrors, vanities, medicine cabinets and lighting options that are beyond the expected—blending thoughtful design, innovative technology, impeccable craftsmanship and quality materials into products that will transform people's styling spaces and reflect their individual style. Founded in 1968 in Bristol, Pennsylvania, Robern grew out of Rosa and Bernie Meyers' belief that individual style should be celebrated and fostered. Today, their pioneering approach to designing highly personalized styling spaces remains at the heart of what Robern does. Their commitment to craftsmanship and fine materials is evident in every piece Robern makes out of its Bristol headquarters. In 1995, Robern joined the Kohler Co. family of businesses, building upon the brand's comprehensive and thoughtful approach to exceptional styling spaces. From its humble beginnings to a technological force within home design, Robern remains the answer for designers, architects and consumers seeking out the finest in modern, sophisticated cabinetry, vanities, mirrors and lighting. For additional information on Robern products, customers may call 1 (800) 877-2376 or visit http://www.robern.com