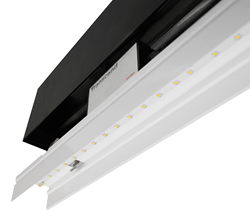 We believe that the next generation of luminaire selection begins with the CIO or CTO of every organization because lighting is no longer a binary product that simply produces light; it's now woven into the fabric of building intelligence
COMMERCE, Calif. (PRWEB) May 01, 2018
Deco Lighting is thrilled to introduce DECO PoE (Power over Ethernet) integrated technology, debuting in the Vector interior architectural luminaire. DECO PoE, powered by the Molex's NCS Network, will bring a newly-conceptualized system to commercial building spaces that provide easier installation and smarter building monitoring than static LED lighting fixtures. Intended to simplify the way lighting systems connect to an IP-based infrastructure for smart control, DECO PoE introduces a new paradigm where energy-saving LED luminaires evolve into a service and become an Internet of Things (IoT) building asset that can be controlled synergistically with other building functions. Integrating Deco's Vector luminaire with next-generation NCS networked lighting controls, transforms the lighting fixture into a beacon for data collection and a center for distributing energy, environmental, and occupancy information. DECO PoE not only provides unmatched overall system integration capabilities but will also deliver a platform that optimizes cost and provides dynamic energy savings with adaptable functionality.
"We believe that the next generation of luminaire selection begins with the CIO or CTO of every organization because lighting is no longer a binary product that simply produces light; it's now woven into the fabric of building intelligence," says Ben Pouladian, President and Co-Founder at Deco Lighting.
Focused on researching and developing synergistic building technologies, Deco has partnered with Molex to introduce convenient and flexible smart building technologies to the market. The Molex NCS PoE Gateway is designed for fast, easy connectivity with its user interface and is compatible with standard CAT 5e or CAT6 Ethernet cables. Its low-voltage connection delivers reliable communication with lights, sensors and other devices. With DECO PoE, only the network connection needs to be made as it delivers both control and power to the luminaire — simplifying the install process. With advanced data communication capabilities, the NCS-Ready Vector luminaire delivers high quality, connected illumination to offices where superior performance, control, and reliability are of high importance.
"The Vector line enables us to confidently go to market with new options for lighting designers and architects who want to take full advantage of our innovative Molex IoT connected building backbone. This collaboration further extends our commitment to continued innovation for our customers," said Mike Picini, Vice President, Network Connected Solutions at Molex.
Implementing Power over Ethernet technology not only enhances the connectivity of a building, but also provides a more flexible central building management system that aggregates real-time energy consumption data along with light status, ambient temperature, occupancy and other useful metrics. The Vector from Deco Lighting, fitted with Power over Ethernet functionality, provides an easy-to-install, turn-key system integrating intelligent building systems through this revolutionary cabling infrastructure. Next-generation DECO PoE technology from Deco Lighting acts as a low-voltage highway pairing energy savings with enhanced data aggregation, making this technology a cornerstone in the digital transformation of buildings.
"Change is always important and we are thrilled see how far we have come in utilizing new innovations to further revolutionize the overall lighting market. Our strategic partnership with Molex is an indicator of the world-class company Deco has become. Our new DECO PoE lighting system will provide an astounding reduction in maintenance costs and increased flexibility," says Sam Sinai, CEO and Co-Founder at Deco Lighting.
Encompassing simplicity in all aspects including maintenance and security management, DECO PoE equips state-of-the-art lighting technologies with plug-and-play solutions allowing for a speedy installation. The low-voltage luminaires utilize this advanced IP-based infrastructure to leverage the Molex NCS system in powering and controlling a myriad of building assets including sensors, motors, HVAC, security, and fire alarm systems from the IT network.
Data aggregated through digital zoning and location analysis provides insight into the user's needs and that of the building. A mashup of data points, gathered from a multi-sensor lighting system, is combined and processed into a central building analytics system. DECO PoE, together with Molex NCS-enabled sensors, is capable of adjusting the building environment in several ways, including energy-saving daylight harvesting, dynamic light scenes, light swatches, and leveraging natural daylight's effect on the circadian cycles throughout the day. DECO PoE allows for a unique and balanced lighting system that meets the needs of any building space, from individual rooms to full buildings and factories.
"Power over Ethernet technology is quickly becoming popular for lighting applications. We are excited to work with Molex to successfully integrate Power over Ethernet technology into our current and upcoming luminaire designs," says Michael Bailey, Direct of Engineering at Deco Lighting.
Deco's plan to introduce revolutionary technologies, including DECO PoE, to the lighting community is part of its overall strategy to research and develop products and services that not only enhance the aesthetics of a space, but also deliver connected lighting systems that personalize the user's experience and drastically reduce energy consumption. With a systematic approach to building automation, Deco Lighting LED luminaires and DECO PoE deliver enhanced cost savings, reduced installation complexity, and create a new ecosystem of forward-thinking lighting products.
Network connected lighting systems, powered by Molex NCS, will deliver an optimal solution to designers, architects and building managers by refining controls and enabling lighting products to serve as essential conduits in the centralization of building applications. Deco Lighting's integration of Molex NCS systems will further establish their position as pioneers in bringing smart and adaptive LED lighting solutions to market. Designed with the Molex NSC network backbone in mind, Deco is also working on an all-new semi-direct interior ambient luminaire--the Solo--that will offer four unique lens styles and an incredibly sleek profile. The Solo will be second in a line of innovative, Molex-connected luminaires from Deco Lighting and is scheduled to hit the lighting market later this year.
Deco Lighting and Molex will showcase their joint systems in the Design Pavillion at booth 1657 during the celebrated LIGHTFAIR International Conference, which runs May 8-10, 2018 at McCormick Place, Chicago. Learn more here: https://www.lightfair.com/exhibitor/?id=25200
About Molex:
Molex brings together innovation and technology to deliver electronic solutions to customers worldwide. With a presence in more than 40 countries, Molex offers a full suite of solutions and services for many markets, including data communications, consumer electronics, medical, industrial, automotive, and commercial vehicle. For more information, please visit http://www.molex.com.
Molex Resources:

About Deco Lighting®
Deco Lighting is a leading provider of next-generation LED lighting fixtures and systems for the architectural, commercial, and municipal markets. Based in Commerce, California, Deco aims to Digitize Your Light™ by delivering the latest in high performance lighting, superb customer service, and efficient control solutions for nearly any interior or exterior application. Continually winning industry awards and patents for their unique US-made products and designs, Deco Lighting utilizes the latest and most advanced lighting technologies to improve lighting quality, increase efficiency, and sustain the environment. Partnered with leading LED manufacturer Nichia, Deco Lighting offers the only 10-year warranty with labor in the lighting industry.
Learn more about Deco Lighting: https://www.getdeco.com
View all DECO PoE-enabled products: https://www.getdeco.com/product-category/poe/
Recent Developments and Industry Recognition:

Introduced the VECTOR interior ambient luminaire, a unique luminaire series merging design with performance by combining a Californian, minimalist design philosophy with premium LED components to deliver up to 109 lumens per watt
Chosen as a Technology Partner for the Los Angeles Better Buildings Challenge (LABBC), a U.S. Department of Energy initiative to support property owners and managers in executing cost-effective building performance upgrades
VECTOR luminaire recognized as part of the 2017 Illuminating Engineering Society (IES) Annual Progress Report
Introduced Select-a-Watt adjustable drivers with a temperature rating of 95°C
Named as one of the Top 100 fastest growing companies in Los Angeles in 2017 by the LA Business Journal
Deco Lighting® is a registered trademark and Digitize your light™ is a trademark of Deco Lighting, Inc.
Media Contact:
Anthony Augusto
Public Relations Coordinator
Deco Lighting
aaugusto@getdeco.com