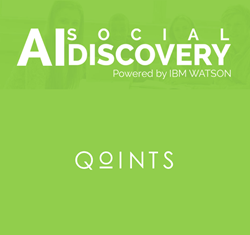 The biggest challenge in influencer marketing today is identifying the right influencers for a brand
(PRWEB) May 03, 2018
Qoints has announced the official launch of AI Social Discovery after increased demand from customers to create a self-service version.
Influencer marketing has taken the digital marketing world by storm, but the process of finding and engaging an influencer to participate in a campaign is manual and tedious. Finding micro influencers (those with roughly 5,000 – 50,000 followers) is particularly challenging, yet the demand continues to grow as they have been shown to generate higher levels of trust, engagement and purchase intent from their followers (in comparison to followers of celebrity influencers).
AI Social Discovery uses artificial intelligence and machine learning to match micro influencers' personality profiles to the profile of an ideal micro influencer, in order to suggest the best ones to a digital brand marketer. Qoints' technology can even determine how likely the person is to make a highly engaging micro influencer, and predict how much engagement they will drive.
"The biggest challenge in influencer marketing today is identifying the right influencers for a brand," explains Cory Rosenfield, CEO and co-founder of Qoints. "That challenge gets exponentially harder when a brand is looking for one or more micro influencers, because there are so many out there. We felt it made perfect sense to leverage AI and machine learning to address this challenge, in tandem with our existing benchmarks for influencer campaigns."
Qoints offers a free trial for marketers to test the capabilities of AI Social Discovery. A marketer can analyze the most recent 1000 followers of any Twitter handle free of charge, to get an idea of what the final report and psychographic profiles look like. There is also an option to analyze a single potential influencer, if the brand or agency already has one (or a few) options in mind. Since the product's soft launch in November 2017, over 250 brands have used it including Aeroplan and Live Nation.
About Qoints:
Qoints is a knowledge management and performance benchmarking platform that allows brands and agencies to aggregate, manage and analyze the performance of their digital marketing campaigns against industry peers. Currently, measuring success is subjective; marketers must be able to compare to others outside of their organization, in order to objectively gauge success. Qoints' benchmarks are accessed through a growing suite of SaaS tools (including Data Manager and AI Social Discovery) which help digital marketers make more transparent, data-driven decisions and objectively quantify the value of their marketing efforts by measuring against their peers.
Visit http://www.qoints.com to learn how your brand can take advantage of performance benchmarking and micro influencer marketing.