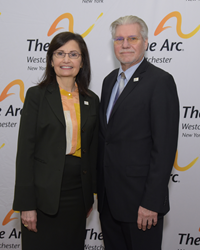 WESTCHESTER COUNTY, N.Y. (PRWEB) May 02, 2018
The Arc Westchester, the County's largest agency supporting individuals with intellectual and developmental disabilities (I/DD), including those on the autism spectrum, is proud to announce the appointment of Tibisay (Tibi) Guzmán to executive director and CEO, effective June 15. Guzmán, who currently serves as associate executive director/chief operating officer of the organization, will replace Richard (Ric) Swierat, who is stepping down after 35 years in the role. Swierat announced Guzmán's appointment during The Arc Westchester's 30th Annual Employer Recognition Breakfast on Friday, April 27 at The Doubletree Tarrytown.
"It's important to have good, strong leadership in the organization," said Swierat at the event. "I'm extremely pleased to pass the torch to Tibi, whose passion for our mission and people we support comes through in every interaction and decision. I firmly believe that she will help take The Arc Westchester to new heights."
The Arc Westchester began a nationwide search for a new executive director in 2017.
Guzmán has served on the leadership team at The Arc Westchester for the last 13 years overseeing different aspects of the organization, starting with The Wellness Center for Diagnostic and Therapeutic Services followed by programs to enhance life skills and Career Supports Services. Through her leadership, The Arc Westchester has developed strong relationships throughout Westchester County with a number of community partners serving individuals of all ages with developmental disabilities. As COO, she oversees an operating budget of $56 million with services ranging from Early Intervention/Preschool, programs for students transitioning from High School to supports for adults residing in The Arc Westchester's 44 homes.
In her new role, Guzmán will be responsible for overseeing and managing the day-to-day activities of the organization. She will work closely with the Board of Directors to develop the strategic direction of the organization, will be responsible to funders and help expand fundraising through its Foundation, and provide overall leadership and support to the many hardworking employees. She will advocate on behalf of Arc's individuals and families in the public and private sectors.
"I am truly honored to be given this opportunity to lead an organization that is so close to my heart," said Guzmán. "Working alongside Ric has been a true joy and I am dedicated to continuing the great work he has inspired for all our families. Supporting individuals with developmental disabilities lead independent and full lives is so important to our families, and I will work tirelessly to further our mission and vision."
Guzmán came from the Healthcare field as an Executive Vice President of Riverside Health Care Inc., a multi-healthcare system in Yonkers, NY. Additionally, she was recently a board member of the New York State APSE chapter and participated in local I/DD, mental health, behavioral services, education and fund raising boards. Guzmán sat on the Community Service Board for the Westchester County Department of Community Mental Health for more than 12 years, and is certified as a Fellow of the American College of Health Care Executives. Her community participations include serving on the Board of Education for Bronxville Schools for six years and the board of Heartsong Inc., an art and music therapy program for children with developmental disabilities, for more than 12 years as Treasurer and Program Chair.
While her professional background is in Health Care Administration, Guzmán has personal experience as a parent of a son with Autism. She resides in Bronxville and has a B.S. from Fordham University, M.P.S. from The New School for Health Service Administration and a M.A. in Economics from Fordham University.
###
About The Arc Westchester
The Arc Westchester, founded in 1949, is the largest agency in Westchester County supporting children, teens and adults with intellectual and developmental disabilities, including individuals on the autism spectrum, and their families. Over 850 employees provide more than 2,000 individuals throughout the county with a broad range of innovative and effective programs and services designed to foster independence, productivity and participation in community life.
The mission of The Arc Westchester is to empower children, teens and adults with intellectual and developmental disabilities, including individuals on the autism spectrum, to achieve their potential by strengthening families and encouraging personal choices, abilities and interests.
The Arc Westchester is a chapter of The Arc USA and The Arc New York.