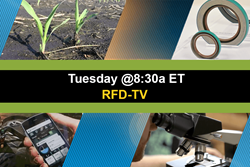 JUPITER, Fla. (PRWEB) May 08, 2018
An upcoming episode of American Farmer will explore several industry leaders and their dedication to innovation and technology.
As a global leader in enhanced efficiency fertilizer technologies, Koch focuses on finding solutions that maximize plant performance and minimize environmental impact. This segment will focus on nitrogen loss – the various processes by which nitrogen moves away from a plant's root zone – and solutions, including a Koch-developed nitrification inhibitor currently being reviewed by the EPA.
Rooted in science and grounded in food production and agriculture, the show will examine Chr. Hansen's dedicated team of professionals and scientists, as well as its animal health division, which includes the largest collection of microbial strains for probiotics and silage inoculants in the world.
Focusing on SKF, innovators in bearings, seals, lubrication and related technologies and services, American Farmer will explore the SKF Scotseal® wheel seal line for Heavy Duty trucks, which offers an optimum sealing solution for a range of maintenance demands and will educate viewers about the Scotseal® X-Treme, a new product with an enhanced wave design, that reduces down time, while remaining safe and efficient.
Finally, viewers will learn about smart irrigation as the show takes a look at Lindsay Corporation. Known worldwide as a leader in providing differentiated irrigation, water management and infrastructure products and services that improve productivity on the farm, audiences will learn about FieldNET® by Lindsay. Providing easy access to an entire irrigation operation, FieldNET® is a fully integrated remote management tool that lets producers view, control, and optimize irrigation systems from virtually anywhere.
"From science and technology to the lastest advances in equipment and machinery, American Farmer never misses a beat," said Jennifer Tierney, senior producer for the series. "We look forward to sharing this information with viewers."
About American Farmer:
American Farmer is a breakthrough program on a mission to showcase the latest advancements in agriculture and farming. From seed to harvest, livestock and more, our producers have traveled the country covering the people, places and issues impacting all areas of farm country.
American Farmer airs Tuesdays at 8:30am ET on RFD-TV. For more information, visit http://www.AmericanFarmerTV.com or call 866.496.4065.