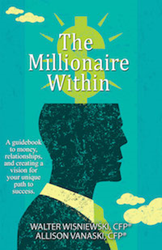 "Family is the reason my dad started his business. Family is the reason I joined the business. And if together, we can help families feel secure about their finances, find happiness and fulfillment on their path, then we as a family, and as our clients' advisors, have truly succeeded."
NEW YORK (PRWEB) May 04, 2018
Walter Wisniewski and his daughter, Allison Vanaski, have a unique knowledge of the challenges people face when it comes to financial success and well-being. They see it every day. As financial planners and wealth managers, their clients share with them the most intimate details of their personal and financial lives. From these relationships, as well as their own experiences with money challenges, Walter and Allie have created a storyline and personal narrative to a subject people often have trouble discussing: money.
Walter Wisniewski grew up in a hard-working, blue collar family where a "nickel an hour raise was cause for celebration." After years of hard labor his parents were able to pursue the American Dream –they bought a general store—where they worked morning, noon and night to keep the lights on. Poor money management in the store and being overly generous with their patrons led to massive debt to keep the business afloat. After the tragic death of his brother in the late 1960s Walter's parents turned to alcohol and the business quickly shuttered.
Though his parents were grief stricken to the point of incapacity, Walter managed to acquire the coping skills he needed to survive and persevere. He helped his parents with their finances as he grew older and his parents were forever grateful, though there was always a sadness there. Through these lessons and tragedies, Walter learned firsthand how important it was to have a strong financial foundation. He made it his life's mission to help others find financial freedom through sound financial planning, saving and investing.
Walter has passed his strong values and commitment to valuable relationships on to his daughter Allie, who left her job on Wall Street to join her father in their practice, Arcadia Wealth Management.
"Family is the reason my dad started his business. Family is the reason I joined the business. And if together, we can help families feel secure about their finances, find happiness and fulfillment on their path, then we as a family, and as our clients' advisors, have truly succeeded." – Allison Vanaski – from the Preface of The Millionaire Within
With each chapter covering a different topic, from investing biases, to music and money to the importance of financial literacy for women, Walter and Allie share their personal and family experiences and give humanity and expression to the subjects they are discussing. This is not just a planning book, it is a family story. It shares a message that anyone who has a family can relate to. Bonus, readers also get to take away some valuable money lessons if they are keen to.
"Allie and I know that people tend to succeed or fail with their finances based on their perceptions, behaviors and biases about money, not because they choose the right stocks at the right time! The sooner investors have this epiphany, the sooner they will make better informed financial decisions. A marvelous byproduct of this 'Aha' moment is that they will come to enjoy what they already have and worry less about what they don't have." – Walter Wisniewski - from the Preface of The Millionaire Within
Walter and Allison are a father- daughter financial planning team. They are owners of Arcadia Wealth Management, a fee-only wealth management firm with offices in New York City and Long Island and are CERTIFIED FINANCIAL PLANINGTM practitioners. Walter and Allison speak frequently on the subject of behavioral finance and investing. Together they represent almost 50 years of experience in the financial industry and collaborate daily in helping their clients achieve success in all aspects of their lives.
http://www.arcadiawm.com/arcadiabook
http://www.arcadiawm.com
Get Your Copy of The Millionaire Within on Amazon
https://www.amazon.com/dp/B0791M5T44