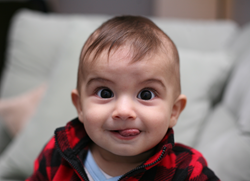 [Tom Daley and Dustin Lance Black] are going through an experience that is similar in almost every way with couples of all orientations.
LOS ANGELES (PRWEB) May 09, 2018
An April 24 article on Gay Star News reveals some telling new details on the upcoming arrival of a son for 23 year-old Canadian Olympic diver and his husband, California-born 45 year-old Academy Award winning U.S. screenwriter and director Dustin Lance Black. The happy couple revealed last Valentine's Day that a son they are having via a surrogate mother is on the way, and recently added that they don't know which one of them is the biological father of the baby. "We put in a boy embryo and a girl embryo and we don't know whose is whose. The next time we will do it the other way around," said Mr. Daley. The two men are going through an experience that is similar in almost every way with couples of all orientations, says Global Surrogacy Services, an agency based in Los Angeles dedicated to helping intended parents with all aspects of surrogacy, including the often complicated medical and legal issues that must be dealt with.
The agency says that many of the hurdles intended parents, both heterosexual and LGBTQ, face have to do with making sure that all of the medical and legal details are attended to. One frequent complicating factor is that not only every country, but all fifty U.S. states, has their own laws on surrogacy. Mr. Daley's home of Canada, for example, is currently in the process of relaxing some, but not all, of its restrictions on surrogate compensation while California – where both Mr. Black and Global Surrogacy Services are based – has some of the most liberal surrogacy regulations in the world. The agency says that its clients come to them from all over the planet to ensure the smoothest possible surrogacy process.
Global Surrogacy Services says that, aside from navigating varying laws, an effective agency must also help deal with numerous medical decisions that need to be made, and such sensitive matters as matching the right surrogate to the right intended parents. Every situation is different and parents' preferences vary greatly; some prefer only a modest amount of contact with a surrogate, while others wish to work with their surrogates on an intimate basis, says the firm. In these latter cases, it may be especially important to ensure that surrogates are screened not only for health and safety reasons, but to ensure their values and attitudes are a good match for the intended parents. In all cases, an agency's work is to make sure the extremely complex medical and legal processes involved with gestational surrogacy turns out to be a positive experience for all involved – intended parents, surrogates, and especially babies.
Readers can learn more about Global Surrogacy Services by contacting the agency by phone at (800) 355-2009 or visiting the agency's web site at https://www.globalsurrogacyservices.com.