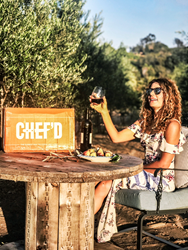 Partnering with Chef'd to bring recipes inspired by the village-to-table cuisines of Mediterranean countries to American homes is a dream come true. Stella Metsovas
SAN DIEGO (PRWEB) May 03, 2018
"Stella's Wild Mediterranean meals offer delicious, good-for-your-gut recipes that emphasize quality ingredients and flavors commonly found in a Mediterranean diet," said Kyle Ransford, Founder and CEO of Chef'd.
"We look forward to making them easily accessible for consumers looking for delicious, healthy solutions with the added convenience of having all pre-portioned ingredients delivered straight to their door."
A proud Greek American, and leading voice in both Mediterranean diet and lifestyle, Metsovas has treasured memories of visiting her family in Greece every summer.
Back then she embraced a "Wild Mediterranean" way of living without even knowing it: participating in age-old traditions, enjoying her natural surroundings and closely-knit community, and avoiding all things fake and processed by eating perfectly-ripe baked in olive oil and fresh fish she'd caught with her grandfather. Thus began a life-long passion to re-create that lifestyle wherever she lived.
"Partnering with Chef'd to bring recipes inspired by the village-to-table cuisines of Mediterranean countries to American homes is a dream come true. The Mediterranean diet is so healthy and well-trusted because most of its meals are built on plant fiber," Metsovas said. "You're always going to flourish from the Mediterranean diet because it's the best for digestive health, without ever sacrificing amazing flavor.
"The new American shopper craves food that's minimally processed and satisfies every regional palate. They're returning to the farm, to the kitchen, to tables shared with families and friends. Whether you're in Omaha, Nebraska, or Los Angeles, California—you can experience the best aspects of village living, and that's the Wild Mediterranean way! "
Timed perfectly to launch with the National Mediterranean Diet month, Chef'd will feature:

Spartan-style Baked Tomatoes paired with seared fish
Cauliflower Crust Mediterranean Pizza
Braised Chicken Thighs with Olives and Kale
Rosemary Meatballs with Fig, Endive and Frisée Salad
Wild Mediterranean Food Bowl with Roasted Red Pepper Pesto
To check out Stella's recipes for Chef'd, visit http://www.Chefd.com/collections/stella-metsovas. Her meal kits are available for delivery throughout the United States. For more about Stella, including the stories behind her recipes, visit her website at https://www.stellametsovas.com