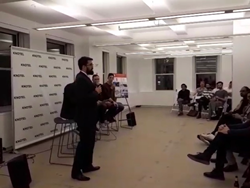 (PRWEB) May 03, 2018
After qualifying for the merit-based, no-fee event organized by Mr. Biggs, a prominent blockchain contributor for TechCrunch, the GPX team attended the pitch contest on April 23rd, which was at full attendance, courtesy of a well-organized and advertised event.
Kit Harrison, Senior Manager, North America, delivered a pitch to four judges and an enthusiastic crowd, followed by a Q&A session. Competing against eight other companies with impending ICOs, Green Power Exchange landed the top spot for its concise yet informative presentation. Despite the electric bill not being at the forefront of everyone's mind, Kit Harrison was able to engage the crowd with GPX's simple message behind a complex technological solution: saving money and the planet at the same time. With blockchain technology, everyone will be able to choose their source of power, and how much they pay for it. Thanks to GPX's P2P platform, switching to cheaper, greener energy will be as easy as a seamless token purchase.
As a result of the successful pitch and placing first, Green Power Exchange has been awarded a table at the TechCrunch Disrupt hosted in September 2018 at the Moscone Center, San Francisco.
For more information on GPX, please visit our telegram channel and the GPX website.
A video of a similar 3 minute GPX pitch can be found here: https://www.youtube.com/watch?v=26i984fz2-k&t=130s
About Green Power Exchange: Green Power Exchange (GPX) is a blockchain-based trading platform. The GPX platform enables simple Peer-to-Peer energy trading. Producers can easily pre-sell their power at a better rate while allowing consumers to buy their power directly for significantly less. GPX is creating a hyper-efficient renewable energy market place to turbocharge clean energy deployment and push out fossil fuels.