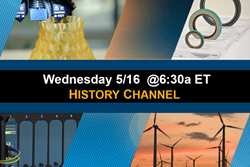 "Innovations looks for the leaders and shakers dedicated to changing the world and advancing society..."
JUPITER, Fla. (PRWEB) May 08, 2018
In a new episode of Innovations with Ed Begley, Jr. producers will explore advances in equipment and technology. The show will air on Wednesday, May 16, 2018, at 6:30aET/PT on the History Channel. Check your local listings for more information.
Focusing on SKF, innovators in bearings, seals, lubrication and related technologies and services, Innovations will explore the SKF Scotseal® wheel seal line for Heavy Duty trucks, which offers an optimum sealing solution for a range of maintenance demands and will educate viewers about the Scotseal® X-Treme, a new product with an enhanced wave design, that reduces down time, while remaining safe and efficient.
Featuring United Equipment Accessories (UEA), a leading manufacturer of highly engineered custom motion products, the show will discuss why design firms, like UEA, have been focusing efforts on engineering slip rings that are specifically made for wind turbines – creating units that last longer and require less maintenance, which in turn lessens downtime and upkeep.
In the past few years there has been a shift from an operator-based investment in in-building cellular connectivity to an enterprise-based investment. Now, the enterprise is responsible for finding the best, most cost-effective solution for their cellular and public safety connectivity needs. This segment will explore the issues facing the enterprise and how Zinwave can solve the growing needs and demands for in-building cellular coverage.
Accelerating the process from initial idea to production, 3D printing has completely revolutionized what it means to create. With a look at Monoprice, audiences will learn about the technology behind Monoprice printers, and how recent developments in 3D printing are enabling everyday people to become the creators of their own masterpiece.
"Innovations looks for the leaders and shakers dedicated to changing the world and advancing society," said Rochelle Hymann, senior producer for the Innovations television series. "We look forward to featuring these innovative players and educating on how they are moving us forward."
About Innovations & DMG Productions:
Innovations, hosted by award winning actor Ed Begley, Jr., is an information-based series geared toward educating the public on the latest breakthroughs in all areas of society. Featuring practical solutions and important issues facing consumers and professionals alike, Innovations focuses on cutting-edge advancements in everything from health and wellness to global business, renewable energy, and more.
Backed by experts in various fields, and a team dedicated to education and advancement, DMG Productions consistently produces commercial-free, educational programming on which both viewers and networks depend.
For more information visit: http://www.InnovationsTelevision.com or contact (866) 496-4065.