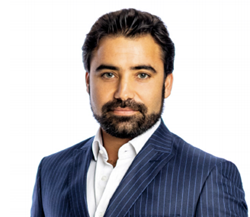 Whatever you want to do in life or business, it's possible.
MIAMI (PRWEB) May 04, 2018
President and CEO, Ramazan Patak of Globaltex Fine Linens based in Miami, Florida has been listed as Brickell Magazine's Top 20 Under 40 List, a notable publication of the most successful up and coming executives in the South Florida area.
Brickell Magazine believes the 20 business professionals they've chosen this year "excel at their respective crafts with superior sophistication and their own unique blend of style and savvy." Executives such as Patak have been recognized to successfully manage their careers and personal life while finding the time to generously give back to their community and inspiring other professionals.
"Whatever you want to do in life or business, it's possible," Patak said. "The key is to never give up and to always be realistic when it comes to your dreams."
Patak's work ethic demonstrates executing and not postponing anything, because consistency is the key to success.
To learn more about Brickell's Top 20 Under 40 executive, Ramazan Patak, visit his website https://www.globaltexusa.com
About Globaltex Fine Linens
Globaltex Fine Linens is a textile manufacturer of fine linen exporting luxurious linens and designer underwear to France, United Kingdom, Poland, Sweden, Austria, Germany, and of course, The United States. You can find Globaltex's latest collection at their retail store in Miami or on Amazon.
CONTACT:
RAMAZAN PATAK
President
7245 NE 4th Ave Suite 105
Miami, Florida 33138
Office: 305 751 2343
Fax: 786 464 9807