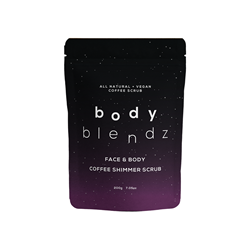 Melbourne, Victoria, Australia (PRWEB) May 07, 2018
The First Mica Mineral Infused Coffee Shimmer Scrub from BodyBlendz
BodyBlendz, the leading name in organic, essential oil-infused coffee-based scrubs has been pampering bodies all over the world. From the original Coffee Buff Coffee Scrub to the luscious Sweet Citrus Face Scrub, BodyBlendz continues to pamper your skin from head to toe.
This time, Coffee Shimmer Scrub by BodyBlendz takes body scrubbing to a whole new light as it illuminates the skin – almost glowing from within. The magic is the finely crushed mica crystal minerals generously embedded into the already replete BodyBlendz scrub.
Activated Charcoal with finely ground Arabica coffee beans to tone, exfoliate and detoxify; the aromatic blend of oils, extracts and minerals to moisturize skin and refresh your senses; and finally, the mica crystals for that beautiful shimmer. A BodyBlendz formulation that's utterly brilliant!
Indulging with Coffee Shimmer Scrub pampers the body, lavishes the soul, and enlivens one's aura.
BodyBlendz Coffee Shimmer Scrub: What's in it and what's not
BodyBlendz Coffee Shimmer Scrub is packed with all-natural goodness from a mix of organic essential oils that contains antioxidant, anti-inflammatory, antiseptic, and anti-aging properties that helps give healthy, glowing skin.
Key natural ingredients in BodyBlendz Coffee Shimmer Scrub are ground Arabica coffee beans, sugar, mica, activated charcoal, Vitamin E and the proprietary blend of essential oils of kakadu plum, green tea, jojoba oil, coconut oil, almond oil and olive oil.

Ground Arabica Coffee Beans are rich in antioxidants that not only slough off dead skin cells but also combat skin diseases and aging as well as reduces visibility of acne, cellulite, stretch marks and psoriasis.
Sugar contain natural properties that hydrate and protect the skin.
Activated Charcoal draws out bacteria, dirt and other toxins that effectively treats skin problems like acne and clogged pores.
Crushed mica mineral powder reflects light off the skin resulting in a flattering shimmery glow.
Kakadu Plum Extract is rich in Vitamin C that is essential in collagen production, which tones the skin and reduces signs of aging. Full of antioxidants, it restores the skin's natural barrier that protects it from UV damage.
Green Tea's powerful antioxidants help absorb bacteria and clear acne thereby reducing redness and skin irritation.
Jojoba Oil is packed with essential nutrients that repair, hydrate and provide natural oils that help slow the aging process.
Coconut Oil is a natural exfoliator that cleanses excess dirt and oils, removes acne and eczema, and hydrates dry and flaky skin.
Almond Oil works to soften and smoothen skin by removing dead skin cells. It contains Vitamin E, which repairs and protects the body from further damage.
Olive Oil's antioxidant properties make it a super exfoliator that not only de-clogs pores of excel oil but also moisturizes.
Vitamin E, a powerful antioxidant, protects skin from sun damage, hydrates and nourishes the skin as well as prevents the appearance of fine lines and wrinkles.
As with all BodyBlendz products, the Coffee Shimmer Scrub is rich with healthy, organic ingredients, but free from SLS, SLES and other harmful irritants; and is 100% cruelty free and vegan!
Use 2-3 times weekly to see beautiful, steady results.
Available in 200g pack at 21.95 USD
Skin so good, it shimmers.
Exfoliated and hydrated, the Coffee Shimmer Scrub will leave one's skin beautifully refreshed and toned. With invigorating notes of plum and green tea, it not only lifts dull skin cells but the spirits as well. This ultra-sparkly body scrub is suitable for all skin types.
About BodyBlendz
BodyBlendz was created in Australia in March 2014 out of a passion to create products that not only evoke a complete sensory delight, but also burst with Mother Nature's super ingredients, to ensure real results while being kind to the planet. Fast forward just a few short years and BodyBlendz has reached cult status in the US, Europe and Brazil with their coffee-based scrubs that are free of any harmful chemicals and full of only natural ingredients. The entire process of creating BodyBlendz products is done in Australia, from concept, to manufacturing to sourcing our super ingredients.