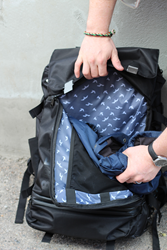 With the Breaker One, we have simplified packing and created a perfect companion for traveling, one that we can trust will protect our belongings.
SALT LAKE CITY (PRWEB) May 07, 2018
Breaker One Bag, the most versatile travel bag, launched today on Kickstarter.
The durable, carry-all bag provides more than 20 places to store all essentials, eliminating the need to travel with multiple bags. With a place for everything, travelers can focus on their adventures – without worrying about hassling with multiple bags to carry their gear.
Breaker Bags founder and lead designer, Jon Paul White, has worked for the past five years on designing the perfect backpack that would allow travelers to better find and live life's adventures. Together with his brother, David White, and father, Jon White, the Breaker One Bag was born.
"Our goal was to create a single backpack that would travel and function for you, so that packing became automatic, rather than an additional stress when traveling," White said. "With the Breaker One, we have simplified packing and created a perfect companion for traveling, one that we can trust will protect our belongings."
The result is a bag that organizes and protects travelers' luggage that is comfortable and stylish to carry. The Breaker One Bag, made from a water and abrasion resistant 840D nylon with PU coating, offers 12 compartments, six organizational pockets, a water bottle holder complete with a drain, a laundry bag with compression straps, an accessories pouch, TSA-approved toiletry bag, and even a technology organizer to ensure cords and devices are organized.
"We embraced the idea of travelers breaking out of their rut and getting out and doing what gives them joy," White added. "The Breaker One embodies the idea of being the one bag you need to take, no matter where you go."
The Breaker One Bag features include:
· 12 compartments
· 6 organizational pockets/pouches
· 1 large water bottle holder with drain
· 1 laundry bag with compression straps
· 1 TSA-approved toiletry bag
· Accessories pouch
· Tech organizer with hanger
· Removable hip belt
· Reflective tabs
· Tripod holder
· Bottle opener
· Rain Cover
· Two-felt lined pockets
· Two key hooks
· Top and side carry handles
· Sternum strap with whistle
· Removable messenger strap
· Multiple hidden safe-storage pockets
· Large, padded laptop and tablet compartment
· Compression straps
· Water and abrasion resistant 840D nylon with PU coating
· Rip-stop internal lining
· Water-resistant YKK zippers
· Roll-top for extra gear capacity and security
· Magnetic Fidlock buckles and snaps for extra security and ease
· Lockable main zipper
· Sleek profile designed to fit in airplane overhead and under-seat storage areas
· Laptop compartment opening located at bag top to prevent theft
· Stash zipper protectors
For information and to pre-order at early-bird discount prices, visit the Breaker One Bag Campaign Page on Kickstarter.
About Breaker Bags
Jon Paul White, lead designer and Breaker Bags founder, has been obsessing about backpack design for the past five years. He graduated with honors with degrees in Industrial Design and Design Management at Arizona State University, and has created more than a dozen backpack designs over the years. As a two-time leukemia survivor, he's learned to value life's many possibilities and adventures, and has worked hard to create a product that will help others find and live their own adventures.
Jon Paul's brother, Dave White, is the perfect combination of computer geek and outdoor adventurer. He earned a degree in English (with a minor in Hebrew) from the University of Utah, all the while earning his way in the world by mastering computer technology and design. When he's not working at his computer, he's toting his cameras into the backcountry and high country of Utah's wilderness (along with many other excursions as far away as the mountains of Peru).
Jon White is proud to call Jon Paul and Dave his sons. He graduated many years ago from Brigham Young University, then embarked on a career in advertising. He and his two partners, John Dahlin and Darrell Smith, founded Dahlin Smith White Advertising in 1986. For nearly 20 years, they helped lead the way in technology advertising, most notably as the ad agency that created and nurtured the Intel Inside campaign for Intel, Inc., throughout the decade of the 90's. Now retired, he's just happy to be in business with his second set of awesome partners.