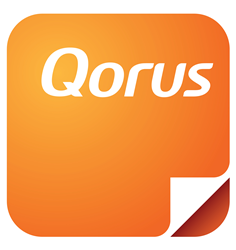 (PRWEB) May 03, 2018
Qorus – the software firm which helps businesses produce critical business documents faster, welcomes Toronto-based management consulting firm, Write.Think.Do. (WTD) to their reseller program.
WTD is a management consulting firm with global, cross-industry experience in strategy development, operations improvement, sales effectiveness, strategic sourcing, negotiations and facilitation, among other areas. "WTD helps companies with complex sales pursuits and proposals. Working on hundreds of proposals, collectively worth billions of dollars, we have experienced the frustration and inefficiencies inherent in managing large documents, distributed contributors and fragmented content," says Ēma Thurairajah, WTD's Managing Principal. "This is what led us to seek a better solution and we believe Qorus offers the potential for a quantum leap in productivity and effectiveness for sales and marketing teams. By integrating Qorus software and workflows into our pitch consulting services, we can offer unique, compelling value to our clients."
"WTD is a great addition to our reseller program," says Michelle Revsbech, Senior Vice President of Alliances at Qorus. "WTD has built an amazing team and established themselves as true trusted advisors to their clients. Their focus on customer experience and delivering value is what aligns so strongly with our objectives at Qorus. We look forward to expanding our Canadian footprint"
ABOUT WTD
Write.Think.Do. Inc. is a management consultancy focused on providing plainspoken and practical business advice in areas such as strategy development, operations improvement, decision-making, sales effectiveness and negotiations / faciltiation. From thought to finish, WTD helps you do the right things and to do them right.
To learn more about WTD, visit: https://wtd.to/
ABOUT QORUS
Qorus helps organizations create business critical documents more efficiently and accurately. Our software is incredibly powerful but highly intuitive and very easy to use. Even the most non-technical users can quickly create accurate, personalized and compliant documents like proposals, contracts, RFPs, pitches, and reports. Qorus runs on Microsoft Azure and integrates with Microsoft Office to enhance document productivity. Our award-winning Customer Success team ensures our customers across all industries get the most value from our software.
Qorus has offices in Seattle, London and Cape Town.
To learn more about the Qorus Partner Program, visit: https://www.qorusdocs.com/qorus-partners
Learn more about Qorus at http://www.qorusdocs.com