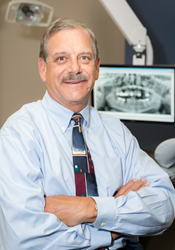 "We try to customize everything for the individual needs of our patients. Having work done under sedation got them confidence and got them over their fears so now, years later, they can just come and sit and get their work done."
HICKORY, N.C. (PRWEB) May 03, 2018
Dr. Dale Spencer is proud to welcome patients with dental anxiety in Hickory, NC relaxed and comfortable treatments through sedation dentistry. As a well-respected, long-time dentist, Dr. Dale Spencer knows how difficult it can be for those with dental anxiety to make and keep appointments, which is why he is offering sedation without prior referrals. Even when their health is on the line, individuals with high degrees of dental fear may not be able to commit to visits, leading to problems like untreated caries and gum disease. It's estimated that millions of people in the United States alone experience a strong sensation of fear of the dentist.
To help patients ease their anxiety, Dr. Spencer and his team offer numerous sedation dentistry solutions. Each treatment allows patients to get the care they deserve while remaining in control of their treatment. As Dr. Spencer explains, "We try to customize everything for the individual needs of our patients. Having work done under sedation got them confidence and got them over their fears so now, years later, they can just come and sit and get their work done."
The specific types of sedation dentistry include local anesthetic, nitrous oxide, oral sedation and IV sedation.
Local anesthetic only numbs a small portion of the mouth in preparation for procedures that may cause discomfort or sensitivity. Nitrous oxide, also known as laughing gas, is inhaled and causes immediate relaxation. Oral sedation is facilitated by taking pharmaceuticals that produce a calming, "twilight" sleep effect that may or may not leave the person with limited memory of the event. Finally, IV sedation allows patients to enter into a deeper relaxation under the watchful eye of trained and credentialed dental professionals.
Although every person has a different reason for not wanting to see the dentist, each individual needs the physical, psychological and social advantages that come with having a healthy, protected mouth.
Dr. Spencer is accepting new patients interested in learning more about sedation dentistry at his Hickory, NC, location, Hickory Dental Care. Appointments are available by calling 828-270-7853 during routine business hours.
About the Practice
Hickory Dental Care offers modern, comprehensive dental care to patients in Hickory, NC, including general dentistry, dental implants, sedation treatment and cosmetic dentistry. Dr. Dale Spencer is a graduate of the University of North Carolina at Chapel Hill, a Fellow of the American Academy of Implant Dentistry and a Diplomate of the American Board of Oral Implantology/Implant Dentistry. Dr. Spencer is experienced in implant dentistry and is certified to administer IV sedation. Dr. Nick Wentworth graduated from the University of New England. He and Dr. Spencer are trained in the latest dental technology to offer comprehensive, comfortable, and predicable treatments for patients. The Hickory Dental Care team is dedicated to providing exceptional care for their patients and strive to create an office environment that is welcoming, compassionate, and of the highest quality. To learn more about Drs. Spencer and Wentworth and the services they offer, call 828-270-7853 or visit http://www.hickorydental.com to schedule a consultation.