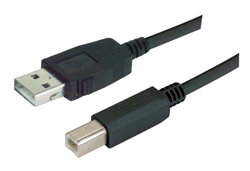 "These unique USB cables offer not only a remedy for high vibration environments, they also address the growing requirement for LSZH jackets in confined space Mil/Aero applications," said Mark Hearn, Product Manager
LEWISVILLE, Texas (PRWEB) May 08, 2018
MilesTek, a leading manufacturer and supplier of products designed to address military and avionics applications, announced today that it has released a new series of USB 2.0 cables that combine latching USB connectors with low-smoke, zero-halogen cable jackets.
The new cable assemblies are ideal for military/aerospace applications where vibration is an issue, because unlike standard USB connectors which rely on a friction fit, the latching USB Type-A connectors on these assemblies provide lock-down mating retention with any USB Type-A jack.
Additionally, these cables feature low-smoke, zero-halogen (LSZH) cable jackets. LSZH reduces the amount of toxic and corrosive gases emitted during combustion. Typically used in poorly ventilated areas, LSZH is very popular with military contractors and anywhere the protection of people and equipment from toxic and corrosive gases is critical.
These new USB 2.0 cables are available with USB Type-A to USB Type-A connectors and with USB Type-A to USB Type-B connectors in lengths ranging from 0.3 meters to 5 meters.
"These unique USB cables offer not only a remedy for high vibration environments, they also address the growing requirement for LSZH jackets in confined space Mil/Aero applications," said Mark Hearn, Product Manager.
MilesTek's new USB 2.0 cables with latching connectors and LSZH jackets are in stock and available for immediate shipment.
For more information about this release, please contact:
Peter McNeil
MilesTek
17792 Fitch
Irvine, CA
978-682-6936 x1174
About MilesTek:
MilesTek designs and manufactures a broad range of MIL-STD-1553B and Ethernet connectivity products to address Military Avionics, Aerospace, Industrial and government applications. In addition to a wide selection of off the shelf products, MilesTek can custom manufacture cable assemblies and harnesses. MilesTek is headquartered in Lewisville, Texas and is AS9100C and ISO9001:2008 certified. MilesTek is an Infinite Electronics company.