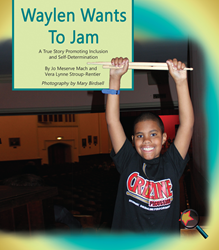 DALLAS (PRWEB) May 03, 2018
Brown Books Publishing Group is proud to announce the release of Finding My Way, a series of English and bilingual (English/Spanish) readers by authors Jo Meserve Mach and Vera Lynne Stroup-Rentier. Finding My Way readers, with photography by Mary Birdsell, are true stories. Created to document and share the respectful and intentional inclusion of children with disabilities, Finding My Way readers are designed to support students, teachers, and families by promoting inclusive practices in education.
Stories in the series, I Want to Be Like Poppin'Joe/ Yo quiero ser como Joe Palmitas; Kaitlyn Wants to See Ducks/Kaitlyn quiere ver patos; Waylen Wants to Jam/ Waylen quiere improviser; Marco and I Want to Play Ball/Marco y yo queremos jugar al béisbol; OE Wants It to Be Friday/OE quiere que sea viernes; and I Don't Know If I Want a Puppy/Yo no sé si quiero un perrito, represent diversity in disability, activity, gender and race. The titles are Lexile rated for both English and Spanish content and have a Guided Reading Interest level of Pre-K through third grade. The authors offer companion vocabulary lists, downloadable lesson plans, and Skype In the Classroom options via their website, http://www.findingmywaybooks.com. The colors, designed by Mary Birdsell, and photographs used in the books enhance the understanding and enjoyment of the stories for all children, including children with intellectual disabilities.
Jo Meserve Mach lives in Topeka, Kansas, and has been an Occupational Therapist for 36 years. She spent 17 of those years in the field of Early Intervention, specializing in sensory processing and environmental modification. Jo's passion is sharing stories of children with special needs, and she embraces the joy that individuals with disabilities bring to communities through their unique gifts.
Vera Lynne Stroup-Rentier, lives in Topeka, Kansas, and has worked professionally in Early Childhood and Special Education programming for more than 25 years. She has a PhD in Special Education from the University of Kansas and is currently working at Westat. Vera is passionate about the inclusion of each and every child in settings where they would be if they did not have a disability. Parenting a teen and tween with special needs enrich her life.
Brown Books, recently named #2 Fast-Growing Independent Publisher by Publishers Weekly, is committed to supporting inclusive education, and continues to expand its educational resources. The company recently added an education-focused salesforce to present its titles to school buyers.
About Brown Books Publishing Group (BBPG)
Founded in 1994 as an Entrepreneurial Publisher for Entrepreneurial Authors®, Brown Books Publishing Group was established to fill a need in the publishing world by allowing authors to have a voice in the publishing process while retaining the rights to their intellectual property. Applying this innovative Relationship Publishing™ model, Brown Books has cultivated a prestigious stable of authors, from New York Times bestsellers to Pulitzer Prize winners and more. Boasting hundreds of high-quality books across genres, Brown Books is a fiercely independent publisher that encourages author empowerment. In 1994, Brown Books ushered in A New Era in Publishing™, and more than two decades later, continues to be a successful innovative leader in the publishing industry. For more information, please visit http://www.BrownBooks.com