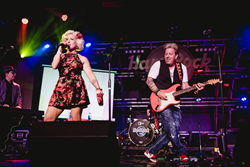 The Swansons are great", said Mike Curb of Curb Records
HOLLYWOOD, Calif. (PRWEB) May 03, 2018
The Swansons, an Alternative Country Rock band founded by Joe and Angie Finley are releasing their third album entitled "Country This" at a special release party on Saturday, May 5 at the Viper Room in Hollywood. They are teaming up with Wright Records, the development label with Sony Music Entertainment's: The Orchard. This husband and wife duo created the 14-song album which includes songs like "Where Did Everybody Go" and "Let's Talk"; which pays homage to their musical philosophy of uniting people while spreading love, peace and happiness.
The album was produced by famed Nashville producer Bill Watson at NashTrax Studio in Nashville TN. On top of arranging the songs and playing bass on the album, Watson brought together many well-known Nashville musicians who supported the project. Those include Grammy award winning guitarist Brent Mason, Country Music Association Award winning fiddle/mandolin and guitar player Jenee Fleenor as well as Jim Riley and his wife Jaime of the Rascal Flatts fame.
"Country This" is already gaining recognition as it received the Country Album of the Year Award at the Producers Choice Honors 2018 Las Vegas F.A.M.E. Awards. The Southern California group opened the awards show by performing three songs at the ceremony on April 7 on the Las Vegas Strip at the Hard Rock Live! While at the Producers Choice event, the band had the honor of presenting Mike Curb of Curb Records with his Lifetime Achievement Award. "The Swansons are great," said Curb when he received the honor from them.
The Finleys took the name of their band "The Swansons" from a code name that the couple used when making dinner reservations while they were dating so they could remain private. "We decided to use the name as it was something everybody could remember," said Joe Finley.
Joe and Angie began dating in 2012, Angie started accompanying Joe to the recording sessions. Joe then asked Angie to sing on one of his songs. The pair fell in love, married and had a baby as they joined together to make music. They built on that love with songs written for their first self-titled album "The Swansons" reflecting on their love. "Love is an extraordinary emotion. Being in love is simply extraordinary," said Angie Finley.
Their second album, "Good Day," was awarded "Independent Album of the Year" in 2016 and in 2017, The Swansons were named "Outstanding Musical Group" by the Producers Choice Honors.
The Swansons have opened for many national acts like Wayne Newton, Berlin, Missing Persons, and have played in Chicago, Las Vegas, Philadelphia, Nashville and Southern California just to name a few.
Upcoming performance dates are the Album Release party on Saturday, May 5 at the Viper Room in Hollywood. On Friday, May 18 at the Whisky A Go-Go, opening for "Missing Persons" and on Saturday, July 14 at Viper Room in Hollywood, CA.
"Country This" will be available on presale starting May 3 on iTunes Music, Amazon Music, Google Play, eMusic, Spotify, Pandora, Beatport and many other music outlets.
A review of "Country This" can be found at: http://highwiredaze.com/countrythis1. Ken Morton of High Wire Daze said "Country This by The Swansons is a refreshing blast of pure sonic bliss!"
For more information about The Swansons, visit their website at: http://www.theswansonsmusic.com.
Follow them on social media Instagram @theswansonsmusic, Twitter @SwansonsJoe, @SwansonsAngie and Facebook at: TheSwansonsMusic.
YouTube video of the song "Valentine" from the album can be found at: https://youtu.be/vE9SODIGGBY.
For Media Inquiries and Interviews please contact YM & Associates PR | Marketing | Branding at YMoralesY(at)YM-PR(dot)com or call 949-244-9769.
Yvette Morales
YM & Associates
PR | Marketing | Branding
California | New York
949.244.9769
YMoralesY(at)YM-PR(dot)com
# # #
About The Swansons
The Swansons are a husband and wife Alternative Country/Pop duet formed in late 2012. The bands co-founders, Joe and Angie Finley, began this journey with the idea to write positive catchy songs that are for everyone! They have forged a path through Hollywood all the way to Nashville Tennessee! The Swansons sound is unique and catchy. Their songs are rhythmic and memorable. Their style is pure, positive, energy that demands your inclusion.
About Wright Records
Wright Records is the development label with Sony Music Entertainment's: The Orchard. Nathan Wright is its CEO.