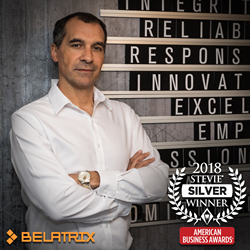 NEW YORK (PRWEB) May 03, 2018
Belatrix Software, a leading software development company, has won a Silver Stevie Award in the annual American Business Awards for "Company of the Year". This award was in the computer services category. In addition, Belatrix President and Co-founder, Alex Robbio, was named a Stevie Award winner in the Executive Of The Year category.
The American Business Awards are the U.S.A.'s premier business awards program. All organizations operating in the U.S.A. are eligible to submit nominations – public and private, for-profit and non-profit, large and small. More than 3,700 nominations from organizations of all sizes and in virtually every industry were submitted this year for consideration in a wide range of categories
Nicknamed the Stevies for the Greek word meaning "crowned," the awards will be presented to winners at a gala ceremony at the Marriott Marquis Hotel in New York on Monday, June 11.
This award follows on from the recognition that Belatrix has received over the past couple of years. From being named a Great Place To Work, to receiving the IDEA Award for institutional excellence, to the founders of Belatrix being recognized as Entrepreneurs of the Year in 2017, Belatrix continues to go from strength to strength.
Alex Robbio, President and Co-founder, commented, "I'm delighted to receive this award, both personally, and on behalf of Belatrix. It reflects the hard work of everyone who is part of the Belatrix family, to create a high-performing workplace which consistently delivers tremendous value for our clients. I'd like to thank the judges of the Stevie Awards for this recognition.
"In 2018, we're planning to build on this progress. We're launching new services, such as our customer success management model and strategy, as well as investing in our centers of excellence which focus on areas including DevOps, UX, digital transformation, mobile, test automation, .NET architecture, and blockchain. We're also planning further geographic expansion."
About Belatrix Software
Belatrix Software helps companies thrive in the digital world. Organizations partner with Belatrix to turn ideas into high quality, innovative software based on highly-tuned Agile development processes. Customers use Belatrix's digital transformation services to create best-in-class software products, lower time to market, and gain competitive edge. Belatrix's dedicated labs, focusing on UX, continuous delivery, mobile, DevOps, and QA automation, help organizations become digital leaders.
Belatrix's clients include both established Fortune level and emerging, venture backed firms. Some of the firm's clients include Disney, Adobe, AOL, PwC, Fluor, and Shutterfly. Belatrix is a South American company with offices in Florida, New York, San Francisco, Mendoza, Buenos Aires, Bogotá and Lima. For more information about Belatrix, click here.
About the Stevie Awards:
Stevie Awards are conferred in seven programs: the Asia-Pacific Stevie Awards, the German Stevie Awards, The American Business Awards®, The International Business Awards®, the Stevie Awards for Women in Business, the Stevie Awards for Great Employers, and the Stevie Awards for Sales & Customer Service. Stevie Awards competitions receive more than 10,000 entries each year from organizations in more than 60 nations. Honoring organizations of all types and sizes and the people behind them, the Stevies recognize outstanding performances in the workplace worldwide. Learn more about the Stevie Awards here