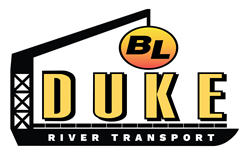 CHICAGO (PRWEB) May 04, 2018
B.L. Duke announces the launch of its new wholly owned subsidiary, B.L. Duke Terminal Services. This new division will be focused on stevedoring services with both indoor and outdoor storage. It will give B.L. Duke the ability to transload finished steel product, including coils, bar stock, rebar, wire, and structural steel, to rail or truck from barges coming from mills in the south and Gulf coast.
"We're always looking for new ways to strengthen our services and improve cost-savings for our customers," said Lou Plucinski, B.L. Duke's President & CEO. "This expansion allows us to help link mills with our customers and suppliers and illustrates just one more way we're revolutionizing the recycling industry."
The new division will be housed on the recently acquired site of the former Gerdau Rolling Mill property, which is adjacent to B.L. Duke's barge and rail terminal facility in the Chicago suburb of Joliet. With its 30.5 acres and a 250,000 square foot warehouse, this will nearly double B.L. Duke's footprint to almost 64 acres. The new location is significantly closer to Chicago and Chicago's suburban industrial areas compared to Indiana ports. In addition, the new site is in close proximity to several major highways and rail terminals.
"With trucking rates and availability becoming increasingly inhibitive, we will continue to grow our barge and rail services not only as a means to control our own logistics costs but now as a diversification strategy and new revenue source," said Plucinski.
The new division comes after B.L. Duke's continued growth and success in 2017. Last year, B.L. Duke increased sales revenue by 65% and added 32 employees to its workforce. They were recently named a finalist for the 2018 American Metal Market's Steel Excellence Award in the Scrap Company of the Year category.
"You can bet that we have even more plans in store for 2018. We're excited to expand our scrap-metal processing capabilities and strengthen our relationships with both mills and our customer base," said Plucinski.
For more information, contact Marissa Plucinski, VP of Sales, at mplucinski(at)blduke(dot)com or visit blduke.com.