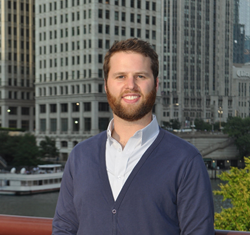 "As the wearables category evolves from wrist-worn trackers to smart apparel and other places where textiles and technology converge, wireless charging becomes even more relevant in the product use cases." ~ Jacob Babcock, CEO, NuCurrent
CHICAGO (PRWEB) May 03, 2018
NuCurrent, an industry leader in wireless power systems and technology development, announces NuCurrent CEO Jacob Babcock will present at WEAR 2018 to be held June 11-13 at the Fashion Institute of Technology in New York City. Babcock will present "Ready-to-Wear Meets Ready-to-Charge: Considerations for Adding Wireless Charging to Wearables" on June 13 at 8:30 am during the Innovation Track.
Wireless charging of consumer devices is happening now. It's accelerating rapidly in the mobile phone segment, and now leading manufacturers are incorporating designs for wireless charging in their products – creating an opportunity for category differentiation, enhanced performance and premium pricing. "As the wearables category evolves from wrist-worn trackers to smart apparel and other places where textiles and technology converge, wireless charging becomes even more relevant in the product use cases," said Babcock. "It's happening in consumer products, medical applications and AR/VR devices, and our technology and systems design expertise is making it possible." During his session, Babcock will deliver a not-too-technical talk on the important considerations manufacturers should take when adding wireless charging to their product roadmaps.
Babcock has been a pioneer in the new wave of wireless power integration and holds over 18 patents in wireless power transfer and magnetics. Under his leadership as co-founder and CEO, NuCurrent has established itself as a technology, IP and design leader in magnetics for wireless power transfer and wireless charging. The company partners with manufacturers to develop plug-and-play solutions to bring innovative wireless charging applications in wearables, smart apparel, mobile devices, handheld computers and other industries.
The Smithers Apex WEAR Conferences, established in 2004 and known previously as Smart Fabrics & Wearable Technology, as well as Wearable Technology UX, have a storied history of bringing together the business of wearables and consumer experience. The WEAR Conference attracts the entire value chain in the wearables and smart fabrics space including designers, developers, technologists, manufacturers and end-users. Focusing around the theme, The Thread That Ties Us Together, this year's program will explore the current state of the industry, market timing, miscommunications between textiles and tech around standards and regulations, sustainable initiatives, as well as a focus on applications within workwear and occupational safety, personal, medical and athletics.
Schedule a meeting with NuCurrent at WEAR 2018 to learn how we can help custom-design, rapid-prototype and integrate the optimal antenna for all your applications by contacting info@nucurrent.com. Also, be sure to follow us on Twitter at @NuCurrentTweets during the event.
About NuCurrent
NuCurrent delivers breakthrough wireless power solutions to product teams through its expertise in wireless power technologies and full-system integration. The company's NuIQ™ Technology Platform includes its patented MLMT antennas – which are the industry's thinnest and most efficient (highest Q) – along with proprietary software that accelerates successful wireless power solution development through advanced hardware simulation and firmware control. NuCurrent's engineering team applies these core technologies in partnership with client product teams to produce complete wireless power solutions on the Qi and Airfuel Standards and within closed, proprietary systems. Founded in 2009, the venture-backed, Chicago-based company has over 75 patents granted or pending worldwide. For more information, visit http://www.nucurrent.com and follow us on Twitter at @NuCurrentTweets.