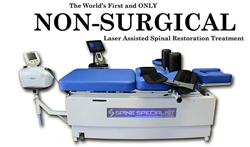 We see about 85 percent of our patient's get significant relief from their pain.
TORONTO (PRWEB) May 08, 2018
The non-surgical spinal decompression therapy table has shown to provide noticeable relief for patients in the Greater Toronto Area. It also supports the results found in the 2010 edition of the open-sourced, peer-reviewed BMC Musculoskeletal Disorders journal, as part of the BMC series which publishes studies focused on serving the needs of individual research communities across all areas of biology and medicine. This refutes a report also from 2010 news report questioning the efficacy of spinal decompression. This report has created a gross misconception of non-surgical spinal decompression since.
Dr. Godrej Engineer is a chiropractor and the owner/Clinic Director of Physiomed, a physiotherapy clinic based in Toronto with 30 locations across Canada, is seeing impressive results for his patients after purchasing a spinal decompression table for his clinics just a few years ago.
"We have seen fantastic results overall," Dr. Engineer said. "We see about 85 percent of our patient's get significant relief from their pain. I would think anecdotally, treating the same conditions through traditional means like chiro, physio, massage, and acupuncture, we would only see 50 per cent of our patient's report the same satisfaction as they would from the table."
The 2010 BMC study -- Restoration of disk height through non-surgical spinal decompression is associated with decreased discogenic low back pain -- has supported the high level of satisfaction among patients that continues to be seen in 2018.
In 2010, CBC News conducted a Marketplace report questioning the legitimacy of spinal decompression therapy. In it, Dr. Hamilton Hall, a leading Canadian spine specialist, challenged the claims of Dr. Richard Liem, the founder of the Toronto-based Low Back Clinic.
Dr. Liem claimed a success rate of between 86-89 per cent among his clients. Dr. Hall disputed this, saying that no back treatment has an 89 percent success rate.
However, physiotherapists and chiropractors across North America continue to see the benefits of spinal decompression eight years on from the BMC study and CBC report, such as Dr. Steven Shoshany at his New York-based Chiropractic and Spinal Decompression Center.
"In addition to the results they report in the BMC Musculoskeletal Disorders study, we have found DRX treatment effective in degenerative, or ruptured discs, as well as sciatica, posterior facet syndrome, and many failed back surgery cases," said Dr. Shoshany, who has been a chiropractor in New York City for the past 20 years.
For more information:
https://www.physiomed.ca/treatments/spinal-decompression-therapy/