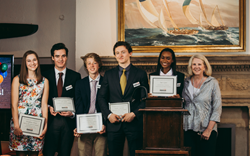 Listen to your heart. Take your difference and run with it.
WESTPORT, Conn. (PRWEB) May 15, 2018
The 2018 Fred J Epstein Youth Achievement Awards (YAA) were presented at the Smart Kids with Learning Disabilities annual benefit on Friday, April 27, 2018 at the Indian Harbor Yacht Club in Greenwich, Connecticut.
The award, named for pioneering pediatric neurosurgeon Dr. Fred J. Epstein, recognizes outstanding achievement by young people with learning disabilities (LD) or ADHD. Dr. Epstein credited his significant learning disabilities as a major factor in his success and became an inspiration to children with LD.
The winner of this year's $1,000 award is Aja Capel from Urbana, IL. Aja is committed to spreading her love of robotics to groups under-represented in the field, particularly girls of color. Only 14, she has received a Youth Service America/Disney Be Inspired Grant, become the youngest winner of the Central Illinois Chapter NCWIT Aspiration Award, and been appointed Chief Curiosity Coordinator by the University of Illinois. Dyslexia, dysgraphia, ADHD, and CAPD will not interfere with her plans for a very busy summer: Aja has been awarded an AspireIT grant to run computer programming camps for girls of color and she has been offered an internship with Caterpillar, Inc.
"Listen to your heart," Aja advises students with LD and ADHD. "Take your difference and run with it."
Josephine Olson of Winnetka, IL, was honored with the 2018 Special Recognition Award. Dyslexia "has forced me to become a strong self-advocate," she says. A senior at New Trier High School in Winnetka, she is an outstanding athlete whose boat came in first among all high schools in the country last year. She looks forward to rowing at Boston University next fall and plans to pursue a law degree, specializing in disability law.
The 2018 Junior Achievement Award was presented to Jack Quirion of Amston, CT. Starting at the age of 10, Jack successfully advocated for four pieces of dyslexia legislation in Connecticut in the past four years through his testimony before the state legislature. A freshman at the Rectory School in Pomfret, CT, Jack has received awards from the CT General Assembly and the office of Lieutenant Governor Nancy Wyman for his work.
Honorable Mentions were awarded to:

Sarah Benson, Forney, TX, has presented to the Texas Association of School Administrators during Dyslexia Awareness Month, in addition to regional schools, describing her own journey with dyslexia. She is currently working on a film to show "what dyslexia looks like" to help teachers recognize the signs and symptoms of dyslexia.
Nick Boyer, Coral Springs, FL, contends with dyslexia and disorder of written expression. He is the captain of the track and field teams and a National AP Scholar at Marjory Stoneman Douglas High School in Parkland, FL. Following the Parkland school shooting in March, he led a memorial run for his coach and mentor who was killed in the attack. He will attend Princeton University in the fall.
Schuyler Dubitsky, Larchmont, NY, once felt "light years behind" other students because of his ADHD and dyslexia. Now a junior in high school, he excels in honor and AP classes. He enjoys great success in judo and Brazilian jiu jitsu, taking gold medals in regional tournaments. Schuyler is also an activist in his school community, helping struggling students through a multi-year Moral Leadership Project.
Danielle Rothchild, Carmel, IN, was diagnosed with a hearing disorder at the age of 10, and later with ADHD. She is the founder and driving force behind the nonprofit, Danielle Cares for Chairs, dedicated to raising funds to provide wheelchairs to those in need. She is the recipient of a Disney Be Inspired Grant, celebrating her unyielding dedication to making a difference in the lives of others in her community.
Sophia Strang, Surrey, British Columbia, Canada, began classical voice training at 13 and started winning competitions the following year. Her self-described type-A personality and beautiful voice, along with her strength as an auditory learner, help her compensate for her dyslexia and make it possible for her to sing in Italian, German, and French. Now 16, she spent last summer training at Tanglewood Music Center.
Colin Wexler, Rye, NY, was recognized last year with the prestigious Westchester County Milly Kibrick Youth Service Award for his work at the Bread of Life Food Pantry. He set up an online business, run initially from his bedroom, that has become a major source of support for the food pantry. Colin views dyslexia as an advantage because it has fostered his unique problem-solving approaches.
Stacey Hafen, co-chair and long-time member of the YAA Selection Committee, was delighted with this year's winners. "We received many, many outstanding applications," she said. The committee reviewed over 140 applications from students across the US and Canada. "We are thrilled to honor these remarkable young people."
About Smart Kids with Learning Disabilities, Inc.
Smart Kids with Learning Disabilities, Inc. is a Westport-based nonprofit organization dedicated to empowering the parents of children with learning disabilities (LD) and attention deficit disorders (ADHD) via its educational programs, award-winning website and blog, and free e-newsletter at http://www.SmartKidswithLD.org. The organization also educates the public about these children's gifts and talents. Connecticut Governor Dannel Malloy, Anne Ford, and Southport School Head Ben Powers are Honorary Board members. Henry Winkler, Golden Globe award-winning actor, director and author, serves as the organization's Honorary Chairman.