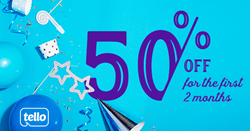 "Great company I ever had experience with. Customer service was always there. . it's easy to navigate their web... not confusing, also offered lots of plan choices, which are great and money saving." (Bo K. on Trustpilot)
ATLANTA (PRWEB) May 05, 2018
Tello Mobile, the young and fast growing American wireless carrier, prepared a bunch of new anniversary offers in May 2018, for existing customers, as well as those who need a good reason to switch networks and try a custom-made plan on Tello.com.
Newcomers on Tello.com get 50% discount on any plan of minimum $10, while loyal customers receive upgrades and discounts on more complex plans, free of any contract.
Those willing to try Tello plans for their domestic calls and/or cellular data get 50% OFF not one, but two months of use after joining. One needs to open an account and get a Tello mobile or enrol their their own. The process is easy & smooth. For less experienced users, the 24/7 Support team is ready to kindly help all through the process. One needs to purchase a phone plan of minimum $10 and keep it for at least two months to get the half price.
Plans can be set up according to needs, and no extra fees apply. They can include more data, or more minutes and text. Here's how the savings will look like, after the 50% discount is applied to regular plan prices:
-For $7/month, one gets 1GB of data, unlimited minutes and free text.
-For $12/month, one gets 3GB of data, unlimited minutes and free text.
-A medium plan would be $14.5/month, that includes: 4GB of data and unlimited minutes and texting.
-A $19.5/month plan brings 10GB of data and unlimited minutes and text.
Anyone living in the USA can grab the offer that suits them by May 17, 2018: https://tello.com/buy/custom_plans.
Existing customers made Tello a success. They are not forgotten in the celebration, being offered a big Thank You together with exclusive deals of 50% OFF via special Tello emails.
Tello is also giving away a free iPhone X and one year of free service during the upcoming Facebook contests. The giveaways are adding to the anniversary fun for both newcomers and existing customers: https://www.facebook.com/tellomobile/
The USA telecom market welcomed Tello 2 years ago, and the service soon became popular among those who needed flexible plans tailored according to their reali needs. Tello Mobile easily set a trend:
-Custom-made plans
-"No fees whatsoever" policy
-Outstanding 24/7 customer service
-Free calls to Canada, Mexico & China included in any plan make Tello
-Flexible approach to custom plans
-Tethering and Voicemail for free.
-Massive price drops, one after the other. Early this spring, Tello Mobile announced a new line up of lower and unbeatable prices on the market, and now celebrates 2 years of happy customers and trustworthy mature service by hitting a 50% drop in cost for any phone plans above $10.
Cell phone plans can be upgraded, downgraded, or renewed at any time, without any penalties. The only thing to consider would be that the starting date of the billing cycle changes once the change is made before the current billing period ends.
On Trustpilot, the famous review platform, Tello is the only wireless carrier in US rated as 'Excellent'. This is the result of more than 2k opinions posted by customers.
Tello is a telecom provider operating on the U.S.A. market. Tello.com is a KeepCalling brand, a global telecommunications company registered in 2002 in USA, providing international and domestic calls and other telecommunication solutions. Presently, KeepCalling provides its services to hundreds of thousands of consumers, with a focus on customer satisfaction. KeepCalling was listed by Inc 5000 as one of the fastest growing companies in the USA for 5 consecutive years.