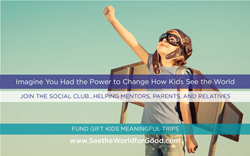 When you love life the party...never ends. Join us to gift kids meaningful trips to change their life for good.
SANTA MONICA, Calif. (PRWEB) May 04, 2018
Recruiting for Good a staffing company in Santa Monica, is collaboratively helping mentors, parents, and relatives fund gift kids meaningful trips. This is a personal and purposeful service for fun people who make a difference that love to change kids' lives for good.
According to Recruiting for Good, Founder Carlos Cymerman, "Travel is an investment in life..we love to serve people who want to gift kids experiences to see the world differently."
How to Participate in Service
This service is for L.A. residents that volunteer in the community regularly (Big Brother/Big Sister, Boy/Girl Scouts, StepUp), parents, and relatives; that are collaborative, and fun too.
Simply attend one of the community parties to meet founder, Carlos Cymerman in person.
1. Art & French Pastries (Adults and Kids) Montana Ave., Santa Monica.
2. Creative Writing+H20 Party (Adult Only Party, May 17th, 6pm), AIR-Food Santa Monica,
3. Fun Belgian Chocolates & Melting Chair Massages (Women Only Party on May 12, 1-3 pm) KC Chocolatier, Santa Monica.
After meeting in person. Recruiting for Good invites people to participate in "See the World for Good," to help fund gift kids meaningful trips.
Carlos Cymerman adds, "Making a difference is fun and rewarding, it brings balance and meaning to our lives, beyond the office; when we love life...the party never ends...let your actions inspire others to care and participate."
About
Recruiting for Good since 1998 has been connecting talented Accounting/Finance, Engineering, and IT professionals to great jobs. "We support Our Moms Work, a fun community service." And reward referrals with travel to celebrate life.