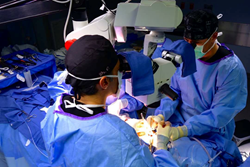 Everyone here has been so accommodating and organized. I am so happy with my experience and am truly happy with my results.
SAN ANTONIO (PRWEB) May 03, 2018
The decision to have breast reconstruction after mastectomy is not always easy--especially for women who do not have access to an experienced breast reconstruction surgeon. For many women, traveling away from home is necessary to find surgeons offering today's most advanced reconstruction techniques. Although traveling for surgery may seem overwhelming, for breast cancer patient Maribel, traveling to PRMA Plastic Surgery in San Antonio, Texas was the best option for her.
Following the news of a breast cancer diagnosis, Maribel consulted with her breast surgeon in Florida to discuss her options. "I was not really given any options during my appointment," shares Maribel. "I was simply told I would need a lumpectomy and radiation."
Uncomfortable with the surgery plan her breast surgeon wanted to schedule, Maribel expressed interest in mastectomy and breast reconstruction. This idea was not accepted with much enthusiasm from her breast surgeon and she was not given information about breast reconstruction options.
Disappointed following the appointment, Maribel began researching options on her own. That's when she found PRMA Plastic Surgery's website where she learned about DIEP flap reconstruction.
The DIEP flap is the most advanced form of breast reconstruction available today uses the patient's own abdominal skin and fat to reconstruct a natural, warm, soft breast after mastectomy. Unlike the better-known TRAM flap, the DIEP preserves all the abdominal muscles. Only abdominal skin and fat are removed (similar to a "tummy tuck). Saving the abdominal muscles means patients experience less pain, enjoy a faster recovery, maintain their core strength long-term, and have a lower risk of complications. Most patients are also candidates for sensory nerve reconstruction which repairs nerves that were damaged during the mastectomy and improves sensation to the reconstructed breast.
Due to the expertise required to perform procedures like the DIEP flap successfully, Maribel knew she would have to travel. "Unfortunately, there are no surgeons near me in Florida who perform the DIEP flap regularly. I made the decision to travel to PRMA in San Antonio because of their expertise in advanced breast reconstruction procedures like the DIEP flap and the high volume of procedures the surgeons perform," shares Maribel. "From my first contact with PRMA I was at ease and felt comfortable with my decision."
Although traveling for breast reconstruction may seem overwhelming, women from across the globe travel to PRMA Plastic Surgery every month. The practice offers a free virtual consultation as well as a dedicated patient liaison to help facilitate travel arrangements and guide patients through their breast reconstruction journey with ease. PRMA also works closely with many organizations that help offset the additional costs of travel and accommodations necessary when traveling for surgery.
Maribel arrived for her surgery in late April. "I am so impressed with how efficient and easy this entire process has been," shared Maribel following surgery. "Everyone here has been so accommodating and organized. I am so happy with my experience and am truly happy with my results."
About PRMA
PRMA Plastic Surgery in San Antonio, Texas, specializes in state-of-the-art breast reconstruction. Procedures offered include the DIEP flap, SIEA flap, GAP flap, TUG flap, fat grafting, vascularized lymph node transfer and nipple-sparing mastectomy. PRMA is In-Network for most US insurance plans and routinely welcomes patients from across and outside the US.
PRMA's Mission
PRMA Plastic Surgery is dedicated to promoting an environment of compassion, concern and support for every patient regardless of social or economic status and regardless of type of insurance. We will strive to not only support the patient and their family but also to support each other as the ever-changing field of medicine becomes more complex. Honesty and integrity, compassion and caring, make up the foundation of PRMA and at no point shall these principles be compromised