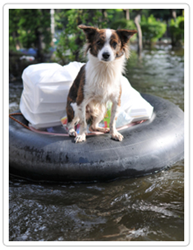 Last year, thousands of pets were displaced during Hurricanes Irma and Harvey and more than 600,000 pets were displaced or killed during Hurricane Katrina.
CLEVELAND (PRWEB) May 08, 2018
It's common to make plans for human family members for things like tornados, hurricanes, earthquakes, and other natural disasters. Unfortunately, however, many pet parents forget to factor their furry family members into these plans. Last year, thousands of pets were displaced during Hurricanes Irma and Harvey and more than 600,000 pets were displaced or killed during Hurricane Katrina, according to The Atlantic. These numbers are staggering, but there's hope. In honor of National Animal Disaster Preparedness Day (May 12th), Embrace Pet Insurance has put together some simple tips to help pet parents prepare for the worst.
Pet Owners Should Plan Ahead
First, it's important for pet owners to know what disasters could affect their area. Keeping a weather radio or downloading the FEMA app, which sends weather alerts from the National Weather Service straight to a cell phone, are reliable ways to stay in the know. Next, making a plan for all family members, including pets, is key.
Emergency situations can be chaotic and stressful for both pet owners and pets, so we recommend having a ready-to-go emergency kit for pets (stored in an airtight, waterproof container in a safe place) that includes the following:

Pet first aid items including: pet medical thermometer, assorted bandages and gauze, tweezers, antiseptics, antibiotic ointment, latex gloves, medications, etc.
Microchip or tag (preferably both) on pets at all times, in case they are frightened and flee, or in the event that they get separated from their owner
Five days of canned or dry food, water, and some sort of portable bowls or trays for feeding
Waste clean-up needs (disposable litter tray, litter, paper towels, plastic bags)
A collar/harness with contact info (using a sharpie on an old collar is fine, especially to display a temporary number)
Leashes and crates or carriers with bedding or blankets
A copy of all pet's shot records and prescription information
Recent photos of pet parents with pets, so it's easier to document ownership in case of separation
Contact information for veterinarians or animal hospitals in the area
Familiar items such as treats, toys, and bedding to help calm pet's nerves
Pet Owners Should Advocate for their Pets
Pet parents should make sure a trustworthy neighbor or friend has a key to check in on pets, so they can facilitate alternative care (boarding, etc.) in case of emergency. Someone close to home may be essential, in case the neighborhood is evacuated.
It's also a good idea for pet owners to have a pet rescue decal on windows or doors, so rescue workers know that there may be pets in the home, if no one is there to tell them.
Lastly, pet owners should pay attention to where their pets like to hide when frightened, to quickly find them in case they must evacuate.
Pet Owners Should Act Early
At the first sign of an emergency or disaster, pet parents should move pets indoors, or to a pre-determined safety location. According to the Federal Emergency Management Agency (FEMA), vacating without pets is never a good idea. They may become lost if they can escape through damaged windows, or they may be overlooked during rescue efforts.
Though it's not always top-of-mind, creating a natural disaster plan that includes your pets only takes a few extra minutes of planning and organization to prevent a potentially heart-breaking situation.
For more helpful tips regarding emergency preparation for pets, check out this article.
About Embrace Pet Insurance
Embrace Pet Insurance is a top-rated pet health insurance provider for dogs and cats in the United States. Embrace offers one simple yet comprehensive accident and illness insurance plan that is underwritten by American Modern Insurance Group, Inc. In addition to insurance, Embrace offers Wellness Rewards, an optional preventative care product that is unique to the industry. Wellness Rewards reimburses for routine veterinary visits, grooming, vaccinations, training, and much more with no itemized limitations. Embrace is a proud member of the North American Pet Health Insurance Association (NAPHIA) and continues to innovate and improve the pet insurance experience for pet parents across the country. For more information about Embrace Pet Insurance, visit http://www.embracepetinsurance.com or call (800) 511-9172.