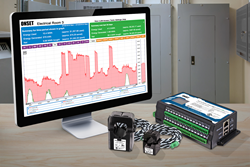 BOURNE, Mass. (PRWEB) May 03, 2018
Onset, a world leader in data loggers and weather stations, today announced the debut of its Onset EG4100 Series Power Monitoring Systems, combining revenue-grade power metering hardware, a full suite of current transformers, and cloud-based energy visualization software. Using the integrated systems, building owners, property managers, and facility managers now have a simple, highly accurate, and cost-effective solution to help manage the energy use of their buildings.
At the core of the EG4100 Series is a revenue-grade power meter that combines an energy meter, data logger, and web server into a single integrated unit. Offered in 15- and 30-input models, the EG4100 Series allows customers to replace dozens of traditional sub-meters with an all-in-one system that streamlines the power monitoring process. The EG4100 Series functions primarily as a current transformer (CT) meter that works with both standard CTs and Rogowski Coil-based sensors, which are sold separately. Using the EG4100 Series, managers can monitor a range of energy parameters, including volts, amps, kilowatt hours, and power factor, among others.
Importantly, the EG4100 Series delivers revenue-grade monitoring for better insights into how employees, tenants, and/or systems are utilizing power, as well as how effectively solar and other power solutions are generating energy. It meets the ANSI C12.20 Class .5 electricity meter standard of +/- 0.5% accuracy and ANSI C12.1 watt-hour meter standard of 1% +/1 accuracy. It also supports typical building electrical installations, including up to 277 VAC, which is phase-neutral, and up to a maximum of 6,900 amperage per channel.
With the EG4100 Series, customers can analyze metering information through a user interface to a cloud-based dashboard that presents a powerful, straightforward, and granular way to visualize energy data. The highly customizable graphical view can be set to display—or hide—any number of monitoring points, so users can view data formatted for a particular need or remove irrelevant information. Because the monitoring points are shown with user-defined time periods, it is easy to analyze data, ranging from minutes to months or even years. Additionally:

Data updates every second provide real-time insights
Custom alerts enable users to take action if energy readings fall outside set parameters
Comma-separated values (CSV) exports facilitate reporting
Reports on energy production versus energy usage support Green Building Initiatives
Daily, weekly, and monthly summaries provide the ability to understand energy-use patterns over different time periods
"We are pleased to introduce this new line of energy meters and accessories that provide revenue-grade power metering of an entire panel or individual circuits…all at an exceptional value," said Jamie Pearce, Onset's VP of Marketing. "With the rollout of our EG4100 Series Power Monitoring Systems, it's easier and more cost-effective than ever for building owners and managers to get highly accurate views of their energy usage through the meter's built-in web server, supporting both real-time responses and smarter decision-making."
Pricing and availability
Onset EG4100 Series Power Monitoring Systems are available today in two models. The EG4130 Pro 30-input model is priced at $850. The EG4130 Core 15-input model costs $499. For more information, visit http://www.onsetcomp.com/eg4100.
About Onset
Onset is a leading supplier of data loggers and monitoring solutions used to measure, record, and manage data for improving the environment and preserving the quality of temperature-sensitive products. Based on Cape Cod, Massachusetts, Onset has been designing and manufacturing its products on site since the company's founding in 1981. Visit Onset on the web at http://www.onsetcomp.com