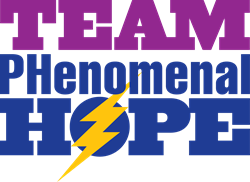 (PRWEB) May 03, 2018
While many people will spend May 5th celebrating Cinco de Mayo, there is a small community of pulmonary hypertension patients who celebrate World Pulmonary Hypertension Day on May 5th.
PH, a rare lung disease, affects only the arteries in the lungs and the right side of your heart. Pulmonary Hypertension (PH) begins when tiny arteries in your lungs, called pulmonary arteries and capillaries, become narrowed, blocked or destroyed. This makes it harder for blood to flow through your lungs, which raises pressure within the pulmonary arteries. This can eventually lead to heart and lung failure. There is currently no cure for this progressive disease.
World PH day is an annual global event to raise awareness of pulmonary hypertension, and bring together the global community of those affected by PH.
Team PHenomenal Hope, a charity that seeks to raise awareness of PH, fund medical research, and build programming to support patients, is celebrating World PH Day this year by tracking miles raced on this day using Strava, an application used to track physical activity. Their goal is to invite anyone to take a walk around their neighborhood, bike the nature trail, or track their training run using a special World PH Day group on Strava. At the end of the day, hopefully hundreds of miles will have been tracked in support of the PH community.
Everyone, even those not connected to the disease, can download the free app and join the special World PH Day group called World PH Day with Team PHenomenal Hope.
According to Pulmonologist Patricia George, endurance challenges such as running or cycling are ideal platforms to draw attention to life-threatening diseases such as pulmonary hypertension. "We promote using endurance sports both to educate people about PH, a progressive, terminal condition, and the need for a cure, as well as to inspire others to rally to this cause," said George, co-founder of Team PHenomenal Hope.
Read more about World PH Day and join Team PH's Strava group at https://www.teamphenomenalhope.org/world-ph-day/. For more information about Team PHenomenal Hope, or to donate to the cause, go to http://www.teamphenomenalhope.org.