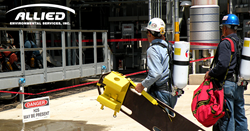 Our clients rely on us to evaluate and control inherently dangerous working conditions and to be at the ready should an emergency occur
BUFFALO, N.Y. (PRWEB) May 14, 2018
In response to client input and the needs of industry in the western New York region, Allied Environmental Services (Allied) initiated a focused improvement and expansion of its on-site confined space stand-by and rescue services in the first quarter of 2018. The expansion was centered around additional training, increasing the capabilities of the confined space team and upgrading of equipment.
According to Linda Grimmer, Branch Manager of the Allied Buffalo office, the additional training was rigorous yet necessary. "This is something that we take very seriously. When work is to be done in a permit-required confined space, the potential for injury is real", Grimmer stated. "Our clients rely on us to evaluate and control inherently dangerous working conditions and to be at the ready should an emergency occur," she added.
According to Grimmer, Allied's confined space entry and rescue services go beyond simply standing by or being "on call" during the project. "We actually work closely with the facility owner and contractors on pre-entry planning, safety plans and permitting, and the overall scope of work to prevent life-threatening conditions from arising", Grimmer said. "Communication and planning are the key to a safe entry project", she added.
The recent training increases Allied's on-site capabilities and number of certified technicians. Allied confined space rescue crews are OSHA 40-hr HAZWOPER certified, and meet OSHA and NFPA certification requirements for confined space entry and rescue. Allied utilizes NFPA-approved recue and retrieval equipment and maintains state-of-the industry atmospheric monitoring and metering equipment.
For more information on Allied's confined space rescue services, please visit: http://www.alliedesi.com/services/industrial-services/confined-space-rescue
About Allied Environmental Services, Inc.
Allied Environmental Services, Inc. (Allied) is an environmental field services and industrial maintenance firm headquartered in Lima, Ohio, with a branch office in Buffalo, New York. Allied provides professional on-site services to private industry, government and military facilities, railroads, municipalities, schools, and hospitals throughout the Great Lakes region. Allied specializes in emergency spill response, contaminant remediation and site restoration, industrial cleaning, vacuum-truck and hydroblasting services, storage tank maintenance, hazardous materials management,industrial coatings application, pond sediment removal, asbestos abatement, underground storage tank closure, and industrial hygiene services.
For more information please visit Allied's website at http://www.alliedesi.com, or contact the main office at (800) 992-5781.