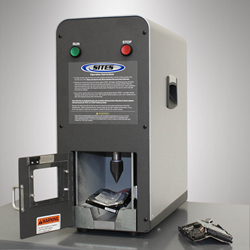 The HDDC-A-230-CE is an off-the-shelf solution that meets the immediate hard drive destruction needs of our European market as a direct result of GDPR.
WESTBOROUGH, Mass. (PRWEB) May 08, 2018
Secure IT Engineered Solutions (SITES), global leader in data center end-of-life solutions, announced the introduction of an automatic hard drive crusher specifically engineered for the European market. The HDDC-A-230-CE features international voltage and CE Marking that ensures compliance with European standards.
"With GDPR around the corner, we have seen a huge increase in requests for hard drive destruction equipment from our European client base," said Laura Milewski, Director of Commercial Sales and Strategic Accounts of SITES. "The HDDC-A-230-CE fills an immediate need for a low to mid volume, compliant hard drive destruction device in the European market."
The HDDC-A-230-CE features a solid steel conical anvil that exerts up to six tons of pressure on hard drives, resulting in broken platters and ruined chassis. The destruction cycle is eight seconds, and the machine is portable and quiet. In addition, the large destruction cavity accepts most drives without having to remove rails, handles, or hot-swap trays, making it an ideal solution for data centers. User-friendly features include simple push button operation, safety interlock that prevents operation with door open, and an energy efficient design that draws no power when not in use. The HDDC-A meets DIN 66399 Level H-3 standard, is listed on the NSA/CSS Evaluated Products List (EPL) for HDD Destruction Devices, and is GDPR, NIST, SOX, FACTA, HIPAA, FISMA, NAID, PIPEDA, and DoD compliant.
"Since a large percentage of our business focuses on customized solutions, we are able to modify our devices to meet our clients' electrical requirements, compliance standards, or specific destruction needs," said Andrew J. Kelleher, President of SITES. "Of course, customization takes time. The HDDC-A-230-CE is an off-the-shelf solution that meets the immediate hard drive destruction needs of our European market as a direct result of GDPR."
In addition to the HDDC-A-230-CE rotational hard drive crusher, SITES also introduced the newly redesigned 1001 solid state crusher, which is available with international voltage and CE Marking. These two devices combined provide a quick, low-cost, and GDPR compliant solution for most low to mid volume European HDD and SSD destruction applications.
About SITES
As a division of Security Engineered Machinery Co., Inc. (SEM), SITES provides comprehensive end-of-life solutions for the protection of sensitive information in government and commercial markets. SITES' reputation as the authority in high security information sanitization was earned through over 50 years of technical innovation, intellectual curiosity, and unrelenting integrity. By fostering a supportive, team-centric environment focused on talent retention and client satisfaction, SITES is recognized as the undisputed leader in depth of expertise, industry excellence, and reliability. SITES data destruction devices are the premier high security choice available on the market today. For more information, please visit http://www.semsites.com.