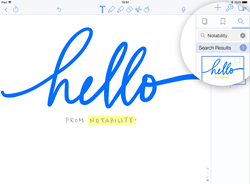 Notability 8.0 will take users to new levels of engagement and productivity.
SAN FRANCISCO (PRWEB) May 22, 2018
Ginger Labs is excited to introduce a major update to Notability. Version 8.0 includes unique features that improve every stage of note-taking, from creating and editing notes to reviewing and sharing them.
New features include handwriting recognition, now all writing can be searched, and can be shared with others as text. With Multi-Note, two notes can be open side-by-side. And the new Note Switcher makes it quick to change notes.
Let's dig in to learn more about this amazing update!
Handwriting Search
Handwriting in Notability is now searchable!
Handwriting can be searched from the library and in the note view. Handwriting recognition and indexing all happens on the device, keeping notes private.
Handwriting search is available for each of the 14 languages that Notability supports: English, Dutch, French, German, Italian, Japanese, Korean, Norwegian Bokmal, Portuguese, Russian, Simplified Chinese, Spanish, Traditional Chinese, Turkish.
Handwriting-to-Text Conversion
Handwriting can be converted into typed text, and it can be copied to the clipboard and pasted into other apps, like Mail or Messages. Alternatively, transform the handwriting into a text box to make notes more presentable when sharing with others.
Multi-Note
Work with two notes side-by-side with the new Multi-Note feature. This saves time, provides more context, and makes editing and reviewing notes more natural. We're excited to see all of the creative pairings that customers come up with, and to get started, here are a few examples of how we use it:

Highlight terms in a textbook and then summarize concepts in another note.
Keep a meeting's full agenda in view while taking minutes in a separate note.
Use a blank note as a scratch pad while working on a class assignment.
Make a note of frequently-used drawings, and simply drag them into other notes at any time.
While reading a recipe, jot down the ingredients you need in a shopping list.
All of the tools available for a single note are also available when using two notes at once, like add and edit annotations, zoom in and scroll around to capture details, rearrange pages, copy-and-paste pages between notes, drag-and-drop content between notes, and more.
Audio can be recorded in one note while editing and switching between other notes. This makes Notability's unique audio recording and playback feature more powerful than ever. No longer does audio recording have to stop in one note to check another.
Note Switcher and Recent Notes
The new Note Switcher is a quick and convenient list of the recently opened notes. Notes can be switched without going back to the Library. Note Switcher includes search too, to help find other notes.
The Library now includes the new Recent Notes list. This is particularly useful for finding, sharing, and working with notes stored in different subjects.
Availability
Notability 8.0 is available for download from the App Store today. It works on iPad and iPhone running iOS 10 or later, and we're excited to offer it free of charge for all of our current users. New users will find that the app's price of $9.99 USD is more than worth it for an app that they'll use for years.
Ginger Labs develops productivity apps for iPad, iPhone, and Mac. Introduced in April 2010 with the launch of the iPad App Store, Notability is the best-selling note taker and PDF annotator for iOS. It's simple enough for first graders, yet powerful enough for graduate students and professionals. Students import and annotate PDFs, such as assignments, worksheets, and books, and record lectures. Professionals annotate schematics while working in the field, take notes during depositions, and mark up images during surgeries. Notability's unique design makes it easy to type, handwrite, record audio, add images, and more. Notability saves time when reviewing notes, since notes link to audio recordings automatically, just tap a note to hear what was said at that exact moment.