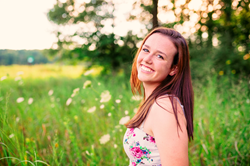 "I was truly inspired by others telling me to go after my dreams. I have always been determined to make an impact on thousands of lives and now I am able to do that through sharing my message and traveling the world!"
STURGIS, Mich. (PRWEB) May 08, 2018
Carina Geigley is delighted to announce the formal launch of her new brand Carina Geigley Global. Just seventeen years old, Carina is a life and business coach looking to inspire others to live a life of abundance through her new brand. Helping people succeed in life has always been Carina's passion, and she is extremely focused on learning and enhancing her experience in self-development and mindset. Another passion she loves is giving back. Carina is a powerful, generous woman determined to change the world and impact many lives in the process.
Carina Geigley hit the headlines recently when she was awarded the Young Woman Scholarship by Regan Hillyer International (RHI), an organization dedicated to providing personal development and business training to men and women with a vision to make a positive impact on the world. This scholarship is awarded annually to a powerful young woman, aged between 13-17 years, with the potential to be a strong global leader.
As a person, Carina is extremely positive about every aspect of life. Like most other teenagers, she loves to experience new opportunities, travel the world, and meet new people. She is an avid reader, writer, thinker, and above all, a dreamer.
Through her new brand Carina Geigley Global, Carina plans to offer several training courses and live events focused on finding people's purpose and message. She will also offer mindset training sessions, host webinars, speak at live events, and introduce a membership site with insightful videos on various topics within life and business. In addition to her activities as a life coach, she is also in the process of writing a book and creating a journal.
After the launch of her personal brand, Carina said, "I was truly inspired by others telling me to go after my dreams. I have always been determined to make an impact on thousands of lives and now I am able to do that through sharing my message and traveling the world!"
To find out more about Carina Geigley and her recently launched brand, please visit http://carinageigley.com/ or https://www.facebook.com/CarinaGeigley/
About Carina:
Carina Geigley is the founder of her personal brand Carina Geigley. She loves empowering people to live their best lives and helping people become successful. She believes everyone has a purpose and everyone matters. She spends her time focusing on learning and gaining experiences in areas including self-development and mindset.