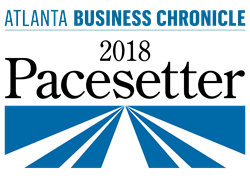 ATLANTA (PRWEB) May 04, 2018
Total Server Solutions has been named a 2018 Pacesetter by Atlanta Business Chronicle. This exclusive annual list of Atlanta's fastest-growing companies represents the most comprehensive look at private business growth within the Atlanta metro area. Qualifying companies are ranked by a weighted growth index formula, factoring both employee growth and revenue growth, to create a level playing field amongst businesses of various sizes.
Founded in 2005, Total Server Solutions is an industry leading managed service provider with a vast spectrum of clients across North America, Europe, and the Asia Pacific. Using our proven technology stack, we provide customers with the finest hosted services and most robust infrastructure available anywhere across the globe. With 23 points of presence worldwide, our services include performance private cloud, managed infrastructure, systems management, CDN, e-commerce solutions, managed colocation, and big data solutions.
"The growth and success of our clients has made for a truly exciting time for all of us at TSS. We have a dedicated team here across the board that grinds daily to make realizing awards like these possible." said Gary Simat, CEO of Total Server Solutions.
Total Server Solutions' customers range from financial institutions to advertising platform operators, hosting providers, and telecom companies. We're also trusted by educational institutions and government agencies in keeping their data secure and available. Our dedicated team of engineers are always working to find the best, most effective ways to serve you and provide solutions to help you to meet whatever your challenges may be. Our mission is simple. We are wholly committed to the success of our customers, and we will do whatever it takes to ensure you have what you need when you need it.
About 2018 Pacesetter Awards
To qualify as a Pacesetter, the company must be privately held; based in the 20-county metro Atlanta area and not a subsidiary of another company; established first quarter 2015 or earlier (to judge a two-year growth); has experienced a two-year growth in sales of more than 50 percent; and 2017 revenues between $1 million and $300 million.