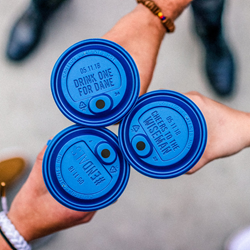 Drink One for Dane is our opportunity to make a difference, and end ALS for good.
GRANTS PASS, Ore. (PRWEB) May 03, 2018
On Friday, May 11, Dutch Bros invites communities to join the annual Drink One for Dane fundraiser for the Muscular Dystrophy Association (MDA). Now in its 12th year, the biggest giveback on the Dutch Bros calendar involves each of its 300+ stores across seven states. All sales proceeds for the entire day are dedicated to the MDA's work in providing for amyotrophic lateral sclerosis research and family support services. Committed to finding a cure for ALS (also known as Lou Gehrig's disease), Dutch Bros is eyeing the $1 million mark this year and is confident that loyal customers will deliver.
"We absolutely love our customers, and they have amazed us with their growing generosity each year for this campaign," said Travis Boersma, co-founder of Dutch Bros Coffee. "Held in honor of my brother Dane, who co-founded Dutch Bros with me, this event encapsulates his spirit, which remains a guiding force for Dutch Bros. We are truly moved by how our communities continue to embrace his legacy and all those impacted by ALS."
Drink One for Dane began in 2007, after Dane Boersma was diagnosed with ALS. The event was intended to increase awareness of the disease while raising support for those afflicted, not only through fundraising for research but also for support services to those living with the illness. In 2009, the Dutch Bros family lost Dane to the incurable disease, but carried on with the annual fundraising campaign as a testament to his indomitable spirit and inspiring positive attitude.
Last year, Dutch Bros customers at all locations (numbering 283 last May) raised more than $970,000 for the MDA. The 2017 effort lifted Dutch Bros' overall contributions to the MDA to $3.5 million. This year, with more locations and a growing loyal fan base, Dutch Bros hopes to break the $1 million barrier.
"In nearly 70 years, MDA has spent $350 million funding ALS research and care support services. With partners like Dutch Bros, the fruits of our labor are starting to pay off with two FDA-approved treatments for ALS and the development and testing of promising new therapies," said Lynn O'Connor Vos, MDA president and CEO. "We know there is still much work to be done in unlocking the secrets of this disease, but we'll continue to aim to stop ALS in its tracks."
The MDA is the world's leader in the fight against muscle-debilitating diseases, including ALS. ALS is an unforgiving disease that affects the parts of the nervous system that control muscle movement. Although victims maintain their awareness, they are increasingly unable to control speaking, breathing or moving. Research continues into understanding the root cause of the disease, which remains a mystery, and finding a cure. Time is of the essence, as those who are diagnosed typically succumb to the disease within three to five years.
Through its Love Abounds Foundation, Dutch Bros donates more than $2 million every year to nonprofit organizations and causes to "Make a difference, one cup at a time." The foundation actively engages Dutch Bros communities through giving and action, supporting programs and projects connected with four focus area: health, music, youth and origins.
To participate in Drink One for Dane, find a nearby location at http://www.dutchbros.com/locations.
About Dutch Bros
Dutch Bros Coffee is the country's largest privately held, drive-thru coffee company, with more than 300 locations and 9,000 employees in seven states. Headquartered in Grants Pass, Oregon, where it was founded in 1992 by Dane and Travis Boersma, brothers of Dutch descent. Dutch Bros serves specialty coffee, smoothies, freezes, teas, a private-label Dutch Bros Blue Rebel energy drink and nitrogen-infused cold brew coffee. Its rich, proprietary coffee blend is handcrafted from start to finish: each ingredient is measured, every process timed and each cup perfected.
With a mission to serve as a role model in the community and commitment to doing the right thing, Dutch Bros donates more than $2 million annually to nonprofit organizations and local causes selected by local owner-operators. To learn more about Dutch Bros, visit http://www.dutchbros.com, like Dutch Bros Coffee on Facebook or follow @DutchBros on Twitter.
FOR MEDIA ONLY
Contact: Angi Veek / 541.660.1521 / pr@dutchbros.com