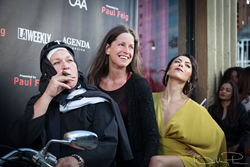 "In recognition of those intrepid souls, making generous, creative contributions for and in women in action films . . . "
BEVERLY HILLS, Calif. (PRWEB) May 04, 2018
Thursday April 26, 2018, at the Ahrya Fine Arts Theater in Beverly Hills, the Artemis Women In Action Film Festival, Presented by Paul Feig put on an awards Gala like no other. Strong women characters was the theme and the impressive lineup of action heroines and stuntwomen that showed up on the black carpet to receive their due at the awards presentation. Arrivals included Michelle Rodriguez, Ming-Na Wen, Rosemary Rodriguez, TJ Scott, Dana DeLorenzo, Dot Marie Jones, Debbie Evans, Alicia Vela-Bailey, Victoria Smurfit, Richard Portnow, Kristanna Loken, Yancy Butler, and many others too numerous to mention.
A big highlight during arrivals was Dot Marie Jones—a cast member of the 2018 AWIAFF award-winning film Combat Nuns: All or Nothing (notable actress best known for Glee)—surprised everyone when she drove on the sidewalk and parked her Harley right on the black carpet. The stunned crowd was delighted as Jones, dressed in a nun's habit, took a drag off her cigar. Artemis Women In Action Film Festival Director Melanie Wise and the evening's host Grace Parra hopped onboard the bike with Dot as the cameras snapped in a frenzy of excitement.
The evening started with a musical performance by singer/flutist Kaylene Peoples, who performed high-energy Bossa-nova with her trio, which included 2-time Grammy-nominated bassist Bunny Brunel. Following Peoples's performance was the award ceremony.
"In recognition of those intrepid souls, making generous, creative contributions for and in women in action films . . . "
Previous Artemis honorees introduced and presented awards to the following: Michelle Rodriguez ("Fast and Furious" franchise, "Avatar"), Ming-Na Wen ("Agents of S.h.i.e.l.d.," "Mulan"), Rosemary Rodriguez ("Cagney & Lacy" 2018, "Jessica Jones"), TJ Scott ("Star Trek: Discovery, Taken"); Dana DeLorenzo ("Ash vs. Evil Dead," "Barely Famous"), Debbie Evans ("The Fate of the Furious 7," "Matrix"), Alicia Vela-Bailey ("Wonder Woman," "Hostel 3"); Danielle Burgio ("Matrix Reloaded II & III," "The Green Hornet"), Heidi Pascoe ("A Wrinkle in Time," "Fantastic Four"), Kachina Dechert ("Mission Impossible," "The Mummy"), and Cassandra Ebner ("Game of Thrones," "Arrow," "Demon X").
Director Rosemary Rodriguez gave a motivating acceptance speech in regards to women in the film industry. "As everyone in this room knows and has lived, anyone that supports other women in this business is pushing a rock up hill." Rodriguez continued to say, "I think it's a beautiful thing to be free to be exactly who we are, and kick ass." She concluded with, "I live for the day where there's just great directors and there is no gender in front of it."
One common thread that evening: there wouldn't be female driven action films without stuntwomen. Artemis Fourth Edition honoree TJ Scott acknowledged, "not enough stuntwomen are given the recognition they deserve." He concluded his speech with his preference in working with stuntwomen over stuntmen, "Women are a lot more fun!" There were exciting and emotional moments when each honoree reminisced about their careers; each filled with challenges and joys. While accepting her award, Danielle Burgio (and a few other honorees) revealed that the Artemis stunt award was the only award she'd ever received in her life. Michelle Rodriguez gave a special nod to stuntwomen, too, particularly to Lifetime Achievement Award-winner Debbie Evans for making her look so good onscreen. Ming-Na Wen spoke about her challenges and victories as a Chinese American actress and for being a "woman in action" actress with staying power. She went on to say, "I've been around for five decades!"
Comedienne/radio personality Ms. Sheena Metal (Artemis board member and founder of Raising the Vibration.org) entertained the audience with her dry humor and witty standup routine. At the close of the show, the AWIAFF award-winning films were recognized and brought up on stage to receive their commendations.
AWIAFF offered an exclusive preview of the coming feature documentary, "Stuntwomen: The Untold Story," directed by April Wright, produced by Marion Rosenberg. The action-packed short film Imbroglio, starring Zoë Bell, Jason Tobias; Alina Andriel, Kiralee Hayashi, Travis Johns; and directed by Christopher Zatta finished the night with a bang.
The evening was sponsored by CAA, AGENDA magazine, LA Weekly, Citi (http://www.citi.com), and Habibi Bath & Body. The awards gala set in motion a weekend of film screenings, Q&As, and a variety of filmmaking themed panels. The Artemis Women In Action Film Festival was well attended, and was the ideal showcase for the best independent "women in action" films with strong female characters!
To learn more about the Artemis Women In Action Film Festival, visit their website at http://www.artemisfilmfestival.com.