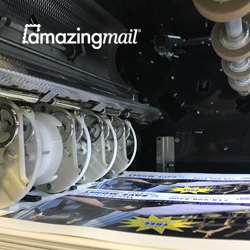 Amazingmail's value proposition rests in its ability to serve as a highly responsive, automated direct mail platform to businesses seeking to make unique, meaningful, physical connections with their target audience and customers.
PHOENIX (PRWEB) May 08, 2018
Amazingmail, a leading automated direct mail solutions provider, announced today that strong demand has created the need to increase production capacity beyond forecast estimates. The company has added two HP Indigo 7900 digital presses to its production platform within the past eight months. The company attributes this growth to increased direct mail fulfillment partnerships and an increasing awareness that direct mail is a key component of a robust multi-channel marketing strategy.
Over the past three years, Amazingmail has realized exponential growth as it has advanced its technology to support automated direct mail with an open API and has driven LEAN Six Sigma processes into its manufacturing environment. The combination has created an attractive direct mail platform that gives marketers the opportunity to respond quickly to inquiries and deliver a high-quality impression within an increasingly narrow window of time. All products come standard with Amazingmail's signature Postal Protect laminate coating and are printed and mailed the next business day. Same day service is available if needed.
"We continue to be encouraged by the market's increasing interest in automated direct mail offering and Amazingmail in particular," President & CEO Danielle Stiehl said. "We've always believed that our value proposition rests in our ability to deliver a highly responsive, personalized direct mail platform to businesses and the market is validating this attractiveness."