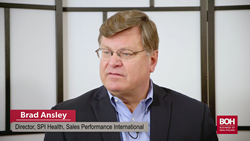 "Every male on my dad's side of the family has had diabetes and even though I was top performing athlete in the military, I was showing signs of diabetes and so I wanted to get into health care learn more and hopefully impact people's lives."
CHARLOTTE, N.C. (PRWEB) May 08, 2018
Like every other industry, healthcare sales people facilitate the buying of products and services. Regulatory change and industry consolidation has lead pharma companies to shrink their sales teams by 20% or more. Many of us may view sales people cynically as not adding healthcare value. But should healthcare leaders reconsider sales people as an untapped resource?
To answer these questions, Business of Healthcare (BOH) interviewed Jay Graves, vice president of sales for Roche Diabetes Care and Brad Ansley, director of the SPI Health. They argue, passionately, that sales people trained as problem-solvers can adeptly help providers find efficiencies and improve outcomes.
Graves, who has been diagnosed with diabetes himself, entered healthcare after a career in military intelligence. "Every male on my dad's side of the family has had diabetes and even though I was top performing athlete in the military, I was showing signs of diabetes and so I wanted to get into health care learn more and hopefully impact people's lives," says Graves whose grandmother had numerous amputations resulting from diabetic complications.
"My grandmother essentially just fell apart. 'Grandma has no legs' and it was just so the natural you know to grow up with that. I don't want anybody to have to experience that," shared Graves who now leads a team of 60 FTEs promoting Roche diabetes care products and services.
Ansley leads the life science team within Sales Performance International, a global sales consulting company which helps pharma, device, and other suppliers improve sales effectiveness. Their methodology approaches performance improvement much like that of Edward Deming and LEAN/Six Sigma . . . the common approach to performance improvement being applied across healthcare today.
"You develop a competency skyline needed for a particular type of sale whether it be pharma, med device, whatever the case," describes Ansley of the SPI Health process. "We determine proficiency levels needed for each competency by comparing high performing and low performing reps. You do that with a performance development platform where you can then understand the gaps and serve up performance development plans. This approach helps continually increase proficiency for those competencies found to be low or below the standard that the organization set to achieve."
One such competency is situational fluency, the nuanced understanding a sales person must engender to understand the client's situation and advise on the best solution to improve efficiency, outcomes, etc.
"Understanding which competencies are needed for situational fluency really revolves around understanding how to deliver a consultative dialogue. We're seeing is organizations still have an old methodology in place where its features, functions, benefits as opposed to having a conversation that begins to understand from the customer's perspective ... what they're trying to achieve, what outcomes they're looking for with their patients," describes Ansley.
Graves has undertaken expanding the competencies in his team to include skills normally expected from major consulting firms such as Lean/Six Sigma. Initial results have demonstrated tremendous value to clients.
"One of our reps looked at how a large organization managed patient diabetes data," explains Graves. "They noticed two full-time nurses doing nothing but manually transferring records between two systems lacking interoperability. It was very costly. By applying Lean and a Roche solution, that work was eliminated, and those FTEs applied more productively."
Understanding and training to these competencies does not make every sales person great. Ansley and Graves both recognize curiosity and passion to be inherent traits needed for success.
Great sales people also need "to be insanely curious as to how can you help customers achieve their goals," says Ansley who himself worked as a pharmaceutical sales person for 22 years.
"It boils down to their passion," says Graves as he describes the difference between his best and his median performers. "Why are they getting up every day? If it's to make a paycheck you know you can tell that. If it's to make a paycheck and save lives you can tell that, too."
The passion Graves looks for in his team as partially driven by some of the fundamental trends affecting all of healthcare. "A billion dollars was taken out of the diabetes industry by Obama Care through reductions in Medicare reimbursement." reports Graves. "Unfortunately, mortality rate increased because a lot of products came into the system that were not as high quality as you get from the branded organizations like Roche."
"In something like diabetes you're treating yourself off of your blood sugar number so if you don't have a right reading you can make some serious mistakes," Graves described. There was a subsequent study showing mortality rates were increasing which was really, really tough to see."
Learn more about SPI Health and Roche Diabetes Care.
Matthew Hanis founded and is executive producer for Business of Healthcare. BOH interviews feature innovations sustainably improving healthcare Mission & Margin. Each discussion includes a healthcare executive and innovator concentrating on the same problem. Think "Nightline" or "How I Built This" just for healthcare. The BOH editorial board approves topics, guests, underwriters, and final content. The BOH audience consists of 19,000 senior executives come from across healthcare . . . health system, payer, provider practice, government, pharma, device, health tech, and so on. Published interviews are free to view at http://www.BOHSeries.com.