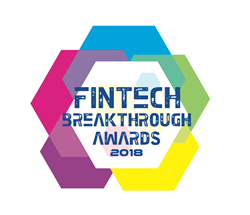 "We are honored to receive this prestigious award for our development of fintech for the global alternatives investment industry" - Natasha Bansgopaul, Co-Founder and COO, DarcMatter
LOS ANGELES (PRWEB) May 08, 2018
FinTech Breakthrough, an independent organization that recognizes the top companies, technologies and products in the global FinTech market, today announced that it has named DarcMatter (DM), a global fintech platform for the alternative fund investment industry, as winner of the "Retail Investment Innovation Award" in the 2018 FinTech Breakthrough Awards program.
"DarcMatter's platform is game-changing for the retail investment category, delivering more accessibility to alternative assets including pre-vetted hedge funds, private equity and venture capital funds," said James Johnson, Managing Director, FinTech Breakthrough. "We see DarcMatter as an industry disruptor and we are pleased to recognize them for their innovations in the retail investment space. Congratulations to the entire DarcMatter team on their 2018 FinTech Breakthrough Award."
The FinTech Breakthrough Awards is the premier awards program founded to recognize the FinTech innovators, leaders and visionaries from around the world in a range of categories, including Personal Finance, Lending, Payments, Investments, RegTech, InsurTech and many more. The 2018 FinTech Breakthrough Awards program attracted more than 3,000 nominations from across the globe.
"We are honored to receive this prestigious award for our development of fintech for the global alternatives investment industry," said Natasha Bansgopaul, Co-Founder and COO, DarcMatter. "We have a continued focus on delivering a more transparent and efficient process for investors seeking access to quality alternative investment opportunities and streamlining the capital raising process for fund managers. Our team is confident that the DarcMatter platform delivers on this goal by providing investors with key fintech features to seamlessly connect, access fund documentation, and invest in a curated set of Hedge Funds, Private Equity, and Venture Capital funds, efficiently online."
Established in 2014 and headquartered in New York City, DM also has offices in Shanghai, China, Hong Kong, and Seoul, South Korea, where the regional teams work with local investors to provide direct access to cross border investment opportunities via the platform. DarcMatter is also developing a blockchain based distributed ledger to remove opacity and inefficiencies from the alternative investment industry globally.
About FinTech Breakthrough
FinTech Breakthrough, part of the Tech Breakthrough Awards organization, is an independent awards and recognition platform devoted to honoring excellence in Financial Technologies and Services companies and products. The FinTech Breakthrough Awards provide public recognition for the achievements of FinTech companies and products in categories including Payments, Personal Finance, Wealth Management, Fraud Protection, Banking, Lending, RegTech, InsurTech and more. For more information visit http://www.FinTechBreakthrough.com.