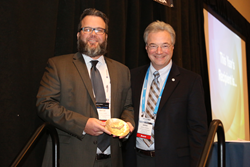 "Although my tenure with the association is a lot shorter than previous recipients of this award, I'm proud to keep the same company as the individuals who grew NETA into what it is today."
PHOENIX (PRWEB) May 08, 2018
Western Electrical Services, Inc. (WES) is proud to announce that its president, Dan Hook, was honored at PowerTest 2018 with the Outstanding Achievement Award from NETA, the InterNational Electrical Testing Association. The award recognizes an individual's commitment to NETA and leadership through service.
Hook, who sits on NETA's board of directors, has been an active member of the association for 12 years. The award specifically highlights Hook's role in the recent restructuring of NETA's certification exam.
"We were at a crossroads with the exam, and we needed a leader to guide us through the single largest project in the history of the association," says Ron Widup, a member of NETA's board of directors and CEO of Shermco Industries. "Dan was that leader, and he did a fantastic job. We could not have completed the exam project without him, and everyone should be forever grateful for his efforts."
Under Hook's guidance as chairman, the certification exam committee ensured that the exam reflected the technology, equipment, and best practices currently used by electrical technicians in the field. That process involved surveying more than 600 technicians and the NETA-accredited companies for which they work to develop relevant questions, as well as creating a new study guide and detailed content outline to thoroughly prepare candidates for the exam.
"Receiving the Outstanding Achievement Award is a big honor and a bit humbling," Hook says. "Although my tenure with the association is a lot shorter than previous recipients of this award, I'm proud to keep the same company as the individuals who grew NETA into what it is today."
In addition to his positions on the certification exam committee and the board of directors, Hook serves on NETA's Standards Review Council and is assistant editor of NETA World Journal.
For more information, contact Jason Bontrager at 888-395-2021 or jbontrager(at)westernelectricalservices(dot)com.
About Western Electrical Services, Inc.
With six locations across the western United States, Western Electrical Services, Inc., provides electrical solutions to the electrical power generation, transmission, distribution, and end-user markets, as well as sales, service, repair, remanufacturing, and retrofitting of all types of metal-clad switchgear and circuit breakers through 38 kV. WES is a NETA-accredited field-testing company and a member of the electrical reconditioning trade association PEARL. For more information, contact WES at 888-395-2021 or visit WesternElectricalServices.com.