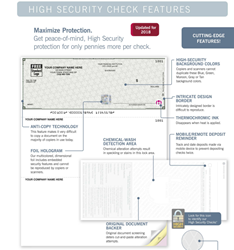 ATLANTA (PRWEB) May 08, 2018
DesignsnPrint, a leading online resource of printed business products for companies located throughout the U.S. and Canada, announced today the availability of their updated high security checks. The printer, known for their business checks, manual and computer laser checks as well as personalized and custom printed checks, now offers some of the most technologically advanced high security checks available. For only pennies more per check, customers will enjoy these nine new security features:

High-Security Background Colors: Makes it impossible for copiers and scanners to duplicate the new checks' blue, green, maroon, gray or tan background colors.
Intricate Design Border: This complex border is difficult to reproduce.
Anti-Copy Technology: Makes it very difficult to copy the check on most copiers presently in use.
Thermochromic Ink: Literally disappears when heat is applied.
Foil Hologram: This multicolored, dimensional foil includes embedded security features and cannot be reproduced by copiers or scanners.
Chemical-Wash Detection Area: Any attempts at chemical alteration in this area results in speckling or stains.
Mobile/Remote Deposit Reminder: For added convenience, track and date deposits made via mobile device to prevent depositing a check twice.
Original Document Backer: Original document screening deters cut-and-paste alteration attempts.
True Watermark: A watermark press into the paper can be seen by holding the check up to a light source. However, it cannot be reproduced by copiers or scanners.
"DesignsnPrint continues to be a leader in high security check technology advancements," said Michael Reid, CEO of Small Business Promotions, Inc., parent company of DesignsnPrint. "These nine new additions for 2018 complement our existing security features including: chemically sensitive paper, consecutive numbering, invisible fluorescent fibers, microprinted borders, visible fibers, toner adhesions, padlock icon, security warning box, warning border, high-resolution border elements and color pantograph background pattern. For companies who demand the most advanced high security business checks available, DesignsnPrint can easily, conveniently and affordably meet their needs," concluded Reid.
For more information or to purchase visit https://www.designsnprint.com/printing/business-checks-banking-products/139-laser-business-checks.html
About DesignsnPrint
Since 2003, Atlanta-based DesignsnPrint has been a leading online resource of printed business products for companies located throughout the U.S. and Canada. In addition to checks, the printer offers a wide range of products, including business cards, post cards, invoices and more products online. There also are 1000s of ready-to-use templates available on the DesignsnPrint website – https://www.designsnprint.com. The printer offers affordable pricing and exemplary customer service.