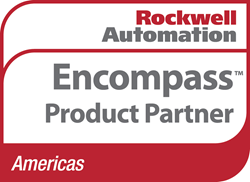 Building a digital twin of the machine within the Rockwell Automation platform very early in the process, allows our customers to test the design through multiple duty cycles.
WATERLOO, Ontario (PRWEB) May 08, 2018
Maplesoft today announced it has been named an Encompass Product Partner in the Rockwell Automation PartnerNetwork™ Program. Through the partnership, joint customers of Rockwell Automation and Maplesoft will benefit from technology that provides model based tools for virtual commissioning. Using Maplesoft technology, customers are able to reduce costly integration problems through the development of high-fidelity, high-performance Digital Twins of their machines.
Integrating these Digital Twins with Studio 5000® from Rockwell Automation allows customers to predict dynamic loads on machine actuators, helping them to make much better-informed decisions on motor sizing, eliminate undesired dynamic effects, and maximize machine performance. It also helps customers reduce the costly integration problems typically associated with the first prototype of the machine, which reduces associated development costs. Model-driven Digital Twins, less expensive than traditional data-driven Digital Twins, assist in all stages of product design and are essential for virtual commissioning.
The capabilities provided by this partnership are based on MapleSim and associated professional services to ensure a rapid return on investment. MapleSim, the system-level simulation software from Maplesoft, is used across a wide variety of applications and industries. Because Digital Twins in MapleSim do not require test data to predict behavior, they can be used for conceptual design as well as to validate product performance, design changes, and diagnostics. Designers can test integration in a virtual commissioning phase, correcting issues that typically would not be discovered until after production.
"Too often, the first time machine manufacturers encounter problems with their design is during the hardware integration phases, when it is very costly to address and risks disruption to the schedule," said Paul Goossens, Vice President of Engineering Solutions at Maplesoft. "Building a digital twin of the machine within the Rockwell Automation platform - complete with mechanisms, motors, gearing and controllers - very early in the process, allows our customers to test the design through multiple duty cycles. This helps them to identify and address integration issues at a fraction of the cost of dealing with them in the later stages."
"Our customers will benefit tremendously from this partnership," said Andrew Stump, Software Business Manager at Rockwell Automation. "Integration with the Studio 5000 design environment allows customers to improve the entire design process of their systems and 'right size' their components. These more comprehensive digital twins, combined with model and control system execution, help users to improve the products their own customers are demanding, with features such as smart diagnostics, performance optimization, and machine-life prediction."
To learn more about how virtual commissioning can improve design techniques in the automation industry, read Digital Twins for Virtual Commissioning.
About Maplesoft
Maplesoft provides engineers with the tools and expertise they need to enable a model-driven innovation process that helps manage design complexity. Offering experts in a variety of engineering fields, extensive experience in model-based design, and the superior system-level modeling and analysis tools MapleSim and Maple, Maplesoft helps companies reduce development risk and bring high-quality products to market faster. Through Maple, Maplesoft also provides a complete concept-to-deployment environment for advanced analysis and rapid development of technical applications and engineering calculation tools. Maplesoft products and services are used in machine design, robotics, aerospace, automotive, and many other fields where engineers face complex challenges. Customers include Boeing, FLSmidth, Ford, Google, Intel, NASA, and Samsung.
Maplesoft is a subsidiary of Cybernet Systems Group. For further details, please visit http://www.maplesoft.com
About the Rockwell Automation PartnerNetwork™ Program
The Rockwell Automation PartnerNetwork program offers global manufacturers access to a collaborative network of companies mutually focused on developing, implementing and supporting best-in-breed solutions to achieve plant-wide optimization, improve machine performance, and meet sustainability objectives.
About Rockwell Automation
Rockwell Automation Inc, the world's largest company dedicated to industrial automation and information, makes its customers more productive and the world more sustainable. Headquartered in Milwaukee, Wis., Rockwell Automation employs over 22,000 people serving customers in more than 80 countries.
For more information: PartnerNetwork website: http://www.rockwellautomation.com/rockwellautomation/salespartners/partnernetwork.page
Encompass and PartnerNetwork (and any other Rockwell Automation product names) are trademarks of Rockwell Automation Inc.