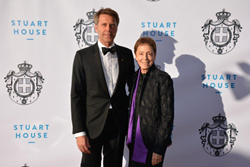 Being able to contribute to the incredible work that the Stuart House performs in assisting Los Angeles children every day makes our first Notte di Savoia all the more rewarding and impactful.
BEVERLY HILLS, Calif. (PRWEB) May 08, 2018
On Saturday, April 28th, His Royal Highness Prince Emanuele Filiberto of Savoy was the guest of honor at a formal charity gala which benefited Stuart House at UCLA-Santa Monica Medical Center. The inaugural "Notte di Savoia" event was organized by the American Foundation of Savoy Orders, successfully continuing the spirit and traditions of charitable giving from the historic, thousand-year dynastic orders of knighthood and merit of the Royal House of Savoy.
The evening's festivities took place at the elegant Montage Beverly Hills, providing the perfect setting for the Notte di Savoia, which recreated the traditions and pageantry reminiscent of 19th Century European style court events, but with an open-air, southern California flair and ambiance. Following a red-carpet entrance and glittering reception, dignitaries and guests in formal attire, some in white-tie and decorations, processed to a candle-lit dinner on the Montage's Terrace.
Guests were entertained by a string quartet ensemble and an a capella Neapolitan solo by actor Paul Sorvino and amazed by mentalist Kevin Viner. Attendees included Italian actress Elisabetta Canalis and her husband Dr. Brian Perri, Los Angeles City Councilman Joe Buscaino, philanthropist chef Bruno Serato, and Gail Abarbanel, Executive Director of Stuart House.
Prince Emanuele Filiberto, the grandson of the late King Umberto II, Italy's last reigning sovereign, commented, "Being able to contribute to the incredible work that the Stuart House performs in assisting Los Angeles children every day makes our first Notte di Savoia all the more rewarding and impactful."
Gail Abarbanel, Executive Director of Stuart House said: "We are absolutely delighted to have been selected as beneficiary charity for this event. Funds raised will have a huge impact for Stuart House, enabling us to support more children and families who have suffered from sexual abuse and exploitation."
The Prince's ancestor, King Victor Emmanuel II, united the nation of Italy under his rule between 1861 and 1870. The Savoy Orders are ancient orders of knighthood which date back to the Crusades, have traditionally been devoted to charitable works, and recognize individuals for their contributions in public service, medicine, the arts, music, government, business and philanthropy.
The American Delegation through its charitable arm, the American Foundation of Savoy Orders, contributes to humanitarian, hospitaller and charitable projects and initiatives across North America and abroad, particularly in health and hospice care, disaster relief, education programs and children's causes.
ABOUT THE AMERICAN FOUNDATION AND DELEGATION OF SAVOY ORDERS: Headquartered in New York City, the American Delegation of Savoy Orders, which includes the United States of America and Canada, is among the 35 delegations of the Savoy Orders located throughout Europe, the Americas and Japan. The Dynastic Orders of the Royal House of Savoy are among the oldest of chivalry in the world. Their origins and their principles, traditions and humanitarian goals, like those of the Royal House of Savoy that has the hereditary right to confer, date back a thousand years.
The American Foundation of Savoy Orders supports local, national, and international charities focusing on medical, educational, social assistance and humanitarian fields, including philanthropy for hospitals, relief agencies, children's causes and hospice care for the poor, infirm and elderly. The Foundation is a Non-Governmental Organization in Roster Consultative Statues with the Economic and Social Council of the United Nations.
ABOUT STUART HOUSE AT UCLA-SANTA MONICA MEDICAL CENTER: Stuart House is an internationally-recognized, model program created by The Rape Foundation to serve the special needs of sexually abused children and their families. Through an exemplary public/private partnership, Stuart House co-locates in a child-friendly facility, an onsite, multi-agency child protection team (police, prosecutors and DCFS workers) to respond immediately to children who report sexual abuse and to expedite child protection actions. Stuart House also provides comprehensive state-of-the-art treatment (24-hour emergency medical care, forensic services, and specialized therapy) to help child victims and their families cope with the traumatic effects of sexual abuse, and to prevent the potentially long-term deleterious effects of childhood victimization on children's physical and psychological health. Stuart House fosters healing and resilience. All Stuart House services are free for the children and families served.