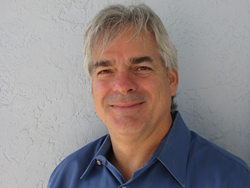 I've been a huge fan of Roger's work for many years. He's one of those heavy hitters in the industry who is well-known, well-spoken, yet extremely humble and hard working. - Stu Sjouwerman, CEO, KnowBe4
TAMPA BAY, Fla. (PRWEB) May 08, 2018
KnowBe4, provider of the world's largest security awareness training and simulated phishing platform, today announced that it has appointed well-known cybersecurity expert and author Roger Grimes as its new data-driven defense evangelist.
"I've been a huge fan of Roger's work for many years," said Stu Sjouwerman, CEO, KnowBe4. "He's one of those heavy hitters in the industry who is well-known, well-spoken, yet extremely humble and hard working. He's full of many thought-provoking ideas, and I have no doubt that he will be an invaluable asset to our company."
Roger Grimes is a 30-year computer security consultant, instructor, holder of dozens of computer certifications and an award-winning author of 10 books and over 1,000 magazine articles on computer security. He has worked at some of the world's largest computer security companies, including Foundstone, McAfee and Microsoft. Grimes holds a bachelor's degree from Old Dominion University. He has been the weekly security columnist for InfoWorld and CSO magazines since 2005.
"With social engineering being a factor in 93 percent of all successful data breaches, I believe that working on any other problem in the security industry would be an inefficient use of my time," said Grimes. "This job allows me to pursue my biggest passion in the cybersecurity industry of promoting a culture that supports data-driven defense. I look forward to working with Stu and the KnowBe4 team to help drive the company's ultimate vision."
For more information on KnowBe4, visit https://www.knowbe4.com.
About KnowBe4
KnowBe4, the provider of the world's largest integrated new-school security awareness training and simulated phishing platform, is used by more than 17,000 organizations worldwide. Founded by data and IT security expert Stu Sjouwerman, KnowBe4 helps organizations address the human element of security by raising awareness of ransomware, CEO fraud and other social engineering tactics through a new-school approach to security awareness training. Kevin Mitnick, internationally recognized computer security expert and KnowBe4's Chief Hacking Officer, helped design KnowBe4's training based on his well-documented social engineering tactics. Thousands of organizations trust KnowBe4 to mobilize their end-users as the last line of corporate IT defense.
Number 231 on the 2017 Inc. 500 list, #50 on 2016 Deloitte's Technology Fast 500 and #6 in Cybersecurity Ventures Cybersecurity 500. KnowBe4 is headquartered in Tampa Bay, Florida with European offices in England and the Netherlands.