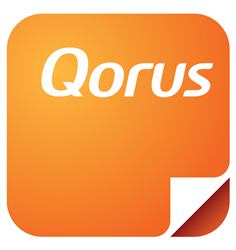 "We're honored to receive recognition in G2 Crowd's Spring 2018 Report", says Ray Meiring, CEO of Qorus
(PRWEB) May 07, 2018
Qorus Software has been identified as one of the best proposal solutions in G2 Crowd's Spring 2018 Grid and Index reports, which are based on its high levels of customer satisfaction and likeliness to recommend ratings from real users on G2 Crowd, the world's leading business solutions review website.
Qorus received positive reviews from verified users compared to similar products in the Proposal category. For inclusion in the report, a product must have received ten or more reviews.
"Rankings on G2 Crowd reports are based on data provided to us by real users," said Michael Fauscette, Chief Research Officer, G2 Crowd. "We are excited to share the achievements of the products ranked on our site because they represent the voice of the user and offer terrific insights to potential buyers around the world."
Qorus is an intuitive proposal and RFP management software provider with clients across the globe. The firm is known for helping organizations produce business-critical documents such as RFPs, pitches, proposals, and more in less time and with higher content accuracy.
The productivity software pioneer simplifies document creation with the Microsoft Office 365 Qorus Add-in. Users can build documents from within the familiar world of Word, PowerPoint, and Excel, making Qorus a solution that anyone in any organization can easily adopt.
"We're honored to receive recognition in G2 Crowd's Spring 2018 Report," says Ray Meiring, CEO of Qorus. "Feedback like this shows that our customers are receiving real value from our solutions."
Learn more about what real users have to say (or leave your own review of Qorus) on G2 Crowd's Qorus Software's review page.
About G2 Crowd
G2 Crowd, the world's leading business solutions review platform, leverages more than 381,000 user reviews to drive better purchasing decisions. Business professionals, buyers, investors, and analysts use the site to compare and select the best software and services based on peer reviews and synthesized social data. Every month, more than one million people visit G2 Crowd's site to gain unique insights.
ABOUT QORUS
Qorus helps organizations create business critical documents more efficiently and accurately. Our software is incredibly powerful but highly intuitive and very easy to use. Even the most non-technical users can quickly create accurate, personalized and compliant documents like proposals, contracts, RFPs, pitches, and reports.
Qorus runs on Microsoft Azure and integrates with Microsoft Office to enhance document productivity.
Our award-winning Customer Success team ensures our customers across all industries get the most value from our software. We have offices in Seattle, London and Cape Town.
Learn more about Qorus at http://www.qorusdocs.com