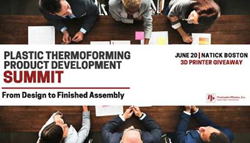 "This summit brings together top plastic thermoforming industry experts," said John Zerillo, Productive Plastics Principal and Vice-President of Sales. "Anyone using or considering using thermoforming to manufacture heavy gauge plastic components in their products will benefit greatly by attending."
MT. LAUREL, N.J. (PRWEB) May 07, 2018
Productive Plastics, a leading heavy gauge plastic thermoforming contract manufacturer, will host the 2018 Plastic Thermoforming Product Development Summit – From Design to Finished Assembly in the Natick Boston-Metro West area on Wednesday June 20, 2018. Technical presentations from industry experts will cover plastic thermoforming manufacturing, thermoplastic materials, industrial design, industrial finishing, tooling and mold construction, and structural adhesives and bonding. Along with networking and a question and answer session, attendees will have a chance to win a 3D printer.
Online registration for this event is now open. The cost to attend is $50, but if registration is completed by Tuesday May 15, 2018, the cost is only $35. View Productive Plastics' event page (https://www.productiveplastics.com/2018-plastic-thermoforming-product-development-summit/) for more detailed information about this summit. Along with networking and a question and answer session, attendees will have a chance to win a 3D printer. A continental breakfast and catered lunch are included.
The following presentations will be made:

Custom Plastic Thermoforming - John Zerillo, VP Sales / Principal, Productive Plastics
Extrusion Process and Material Selection - Eric B. Lattanner, Business Development Manager, Spartech
Design for Thermoforming Key Considerations - Scott Ryan, IDSA, President, Brownlie Design
Tooling Development - Fritz Borke, Borke Mold and Bay State Cast Products
Industrial Finishing - John Snyder, PPG Paints
Structural Adhesives and Tapes - John Petrauskas, Ellsworth Adhesives (ITW)
Attendees will include product designers, engineers, and procurement professionals. Participants can expect to gain insight on the following topics:

Understand the features, benefits, and limitations of the heavy gauge plastic thermoforming process
Make a clear assessment of when thermoforming is the right solution for an application
Learn how thermoforming compares to other production processes
Get pro tips on how to design an application to take full advantage of the benefits of plastic thermoforming
Consider post production processes such as finishing, attachment point bonding, and assembly
"This summit brings together top plastic thermoforming industry experts," said John Zerillo, Productive Plastics Principal and Vice-President of Sales. "Anyone using or considering using thermoforming to manufacture heavy gauge plastic components in their products will benefit greatly by attending."
About Productive Plastics
Headquartered in Mt. Laurel, NJ and established in 1955, Productive Plastics offers thermoformed plastic components through pressure thermoforming and vacuum forming. Productive Plastics is a leading contract manufacturer of heavy gauged thermoformed parts for medical equipment, transportation, kiosk, industrial, and plastic enclosure markets. For more information, please visit https://www.productiveplastics.com or call 856-778-4300.